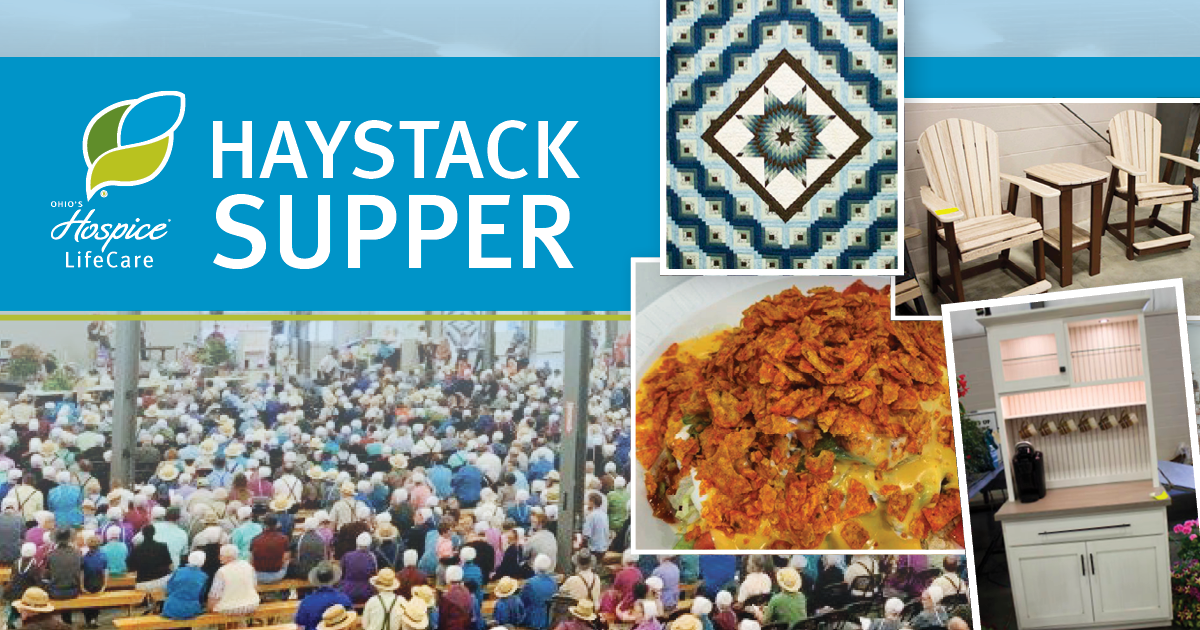 Haystack Supper Set for May 7 at Mt. Hope Event Center
Ohio's Hospice LifeCare is grateful to the event hosts and organizers who have organized the Haystack Supper, a benefit auction organized by the Amish community to raise funds for community members who are facing life-limiting illnesses.
The Amish Care Fund enables Ohio's Hospice LifeCare to provide superior care and superior services to anyone in the Amish community facing end-of-life illnesses, regardless of their ability to pay; grief support to anyone in the Amish community at no cost; complementary services such as massage and music therapies; and palliative care to Amish patients whose chronic disease compromises their quality of life.
Here are a few details about the event:
The Haystack Supper, a benefit auction, will be held on Friday, May 7, at Mt. Hope Event Center (8076 State Rt. 241, Millersburg, OH 44654). Carryout begins at 3:30 pm; supper is at 4 pm; and the auction begins at 6 pm.
The event includes a traditional haystack supper. Attendees can build their own plates with crushed crackers, rice, taco-seasoned ground beef, shredded cheddar cheese, lettuce, tomato, onions, and green peppers topped with warm cheese sauce, sour cream, taco sauce, sweet and sour dressing, and crushed nacho cheese flavored tortilla chips. Brownies and soft-serve ice creams will be served for dessert. Beverages include coffee, water, and a variety of pop.
Supper is followed by a benefit auction. The auctioneer is Steve Chupp Auctions.
For more information, please contact: Roy and Linda Miller at 330.466.1780; Sam Troyer at 330.695.2456; or Eddie Miller at 330.464.1289.