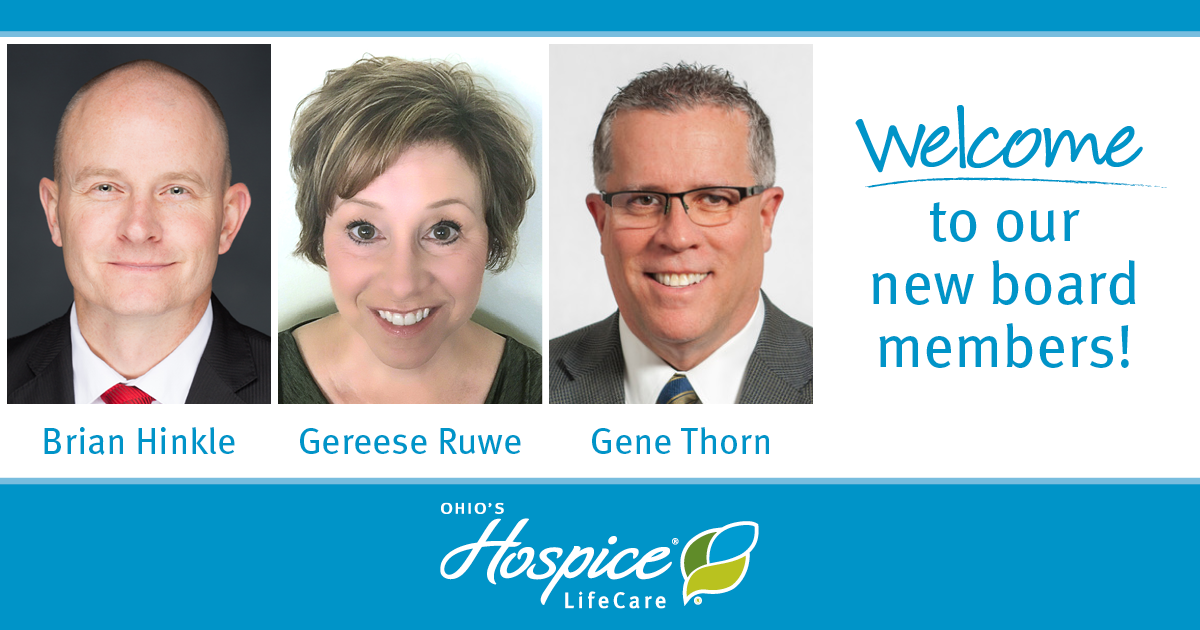 Ohio's Hospice LifeCare Appoints Three New Board Members
Ohio's Hospice LifeCare announced the appointment of three new members to its board of directors. Brian Hinkle, Gereese Ruwe and Gene Thorn will serve on the board for the community-based, not-for-profit organization.
"We are pleased to welcome Brian Hinkle, Gereese Ruwe and Gene Thorn as board members," said Kurt Holmes, executive director at Ohio's Hospice LifeCare. "They bring extensive experience and expertise in their respective fields to our community and will be great assets to our organization."
Brian Hinkle has 20 years of experience in the banking industry. He currently works in business development and has built strong relationships in Ashland County. He also serves on the boards of Ashland County Community Foundation, Mohican Area Growth Foundation, and American Red Cross. Hinkle is the chair of the Culture and Diversity Committee with American Red Cross and is a Rotary International member.
Gereese Ruwe is a retired teacher and education administrator. She most recently served in the Pittsburgh, Pennsylvania, area until her husband began a role with The J.M. Smucker Co. in Wayne County. Ruwe is an active member of the Medina and Wadsworth communities. Her passion for hospice care began when her father received hospice care.
Gene Thorn recently retired as the chief financial officer at Cleveland Clinic – Union Hospital in New Philadelphia, Ohio. He also served as the chief financial officer for Doctors Hospital in Massillon, Ohio, before moving to Union Hospital. Thorn is the past president of the Buckeye Boy Scout Council, trustee of the Austin Bailey Health and Wellness Foundation, and trustee of United Way of Tuscarawas County.
"We are thankful for the service of each of our board members and their commitment to furthering and upholding the mission of Ohio's Hospice LifeCare," said Holmes. "Through community member support, we are building on the legacy of our founders by providing superior end-of-life care to communities in our region that we are privileged to serve."
Ohio's Hospice LifeCare, a not-for-profit organization established in 1982, is an affiliate of Ohio's Hospice that serves communities in Wayne, Holmes, Ashland and Medina counties. It embodies the spirit of neighbors caring for neighbors with a commitment to relieve suffering, ease fears, and provide companionship along life's last journey. Ohio's Hospice LifeCare addresses patient and family needs wherever the patient calls home. Services also include access to the Stanley C. and Flo K. Gault Inpatient Pavilion, providing short-term patient care to manage acute symptoms, adjust medications, or stabilize patient condition.