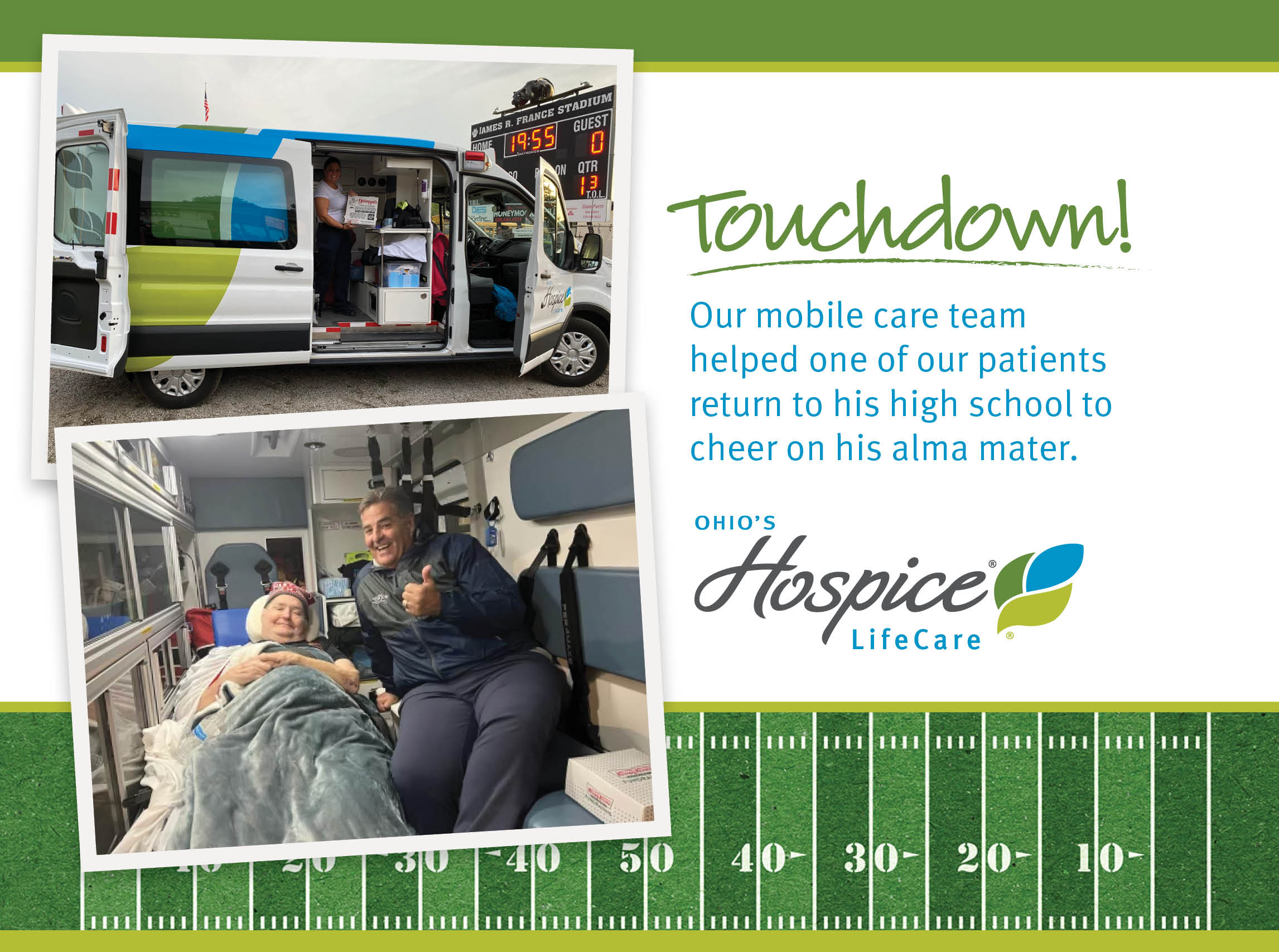 Ohio's Hospice LifeCare's Mobile Care Unit Team Helps Hospice Patient Return to Alma Mater for Football Game 
When Joe Smith was in high school, he played football for Manchester High School. After graduating in 1972, Joe continued to attend Friday night football games. It was his favorite way to spend a Friday night. He loved the ambiance and feeling of Friday night football. Sports continued to be a big part of Joe's life, whether he was a participant, a spectator or a referee. However, when his health declined, he was no longer able to attend Friday night football games.
Thanks to the mobile care unit team at Ohio's Hospice LifeCare, Joe was able to return to his alma mater to watch a Friday night football game this past September.
To help celebrate the moment, Joe's brother flew in from out of state to attend the game. The brothers enjoyed pizza from the back of the mobile care unit while watching the game. The school's athletic director, Brody Jackson, also presented Joe with a Manchester Panthers winter hat to help cheer on his favorite team in comfort.
Joe's son and his family also joined him at the game to cheer on the Panthers. Josh Zimcosky, one of the mobile care unit specialists assisting Joe, was touched by Joe's reaction. "I've never seen such a big smile on Joe's face," Josh said. "Being able to do this for him was an absolute pleasure."
The mobile care unit has made a difference in the lives of Ohio's Hospice LifeCare's patients like Joe.
"We were honored and privileged to help make this special moment possible for Joe and his family," said Kurt Holmes, executive director of Ohio's Hospice LifeCare. "By providing transportation support for our patients, our mobile care unit is one of the many ways Ohio's Hospice LifeCare provides superior care and superior services to our patients and their families."
Ohio's Hospice LifeCare, a not-for-profit organization established in 1982, is an affiliate of Ohio's Hospice that serves communities in northeast Ohio. It embodies the spirit of neighbors caring for neighbors with a commitment to relieve suffering, ease fears, and provide companionship along life's last journey. Ohio's Hospice LifeCare addresses patient and family needs wherever the patient calls home. Services also include access to the Stanley C. and Flo K. Gault Inpatient Pavilion, providing short-term patient care to manage acute symptoms, adjust medications, or stabilize patient condition. The Marilyn B. and Mark E. Gustafson Center for Supportive Care includes Ohio's Hospice LifeCare's Volunteer Services, the Pathways of HopeSM Grief Counseling Center, and transportation service and support.