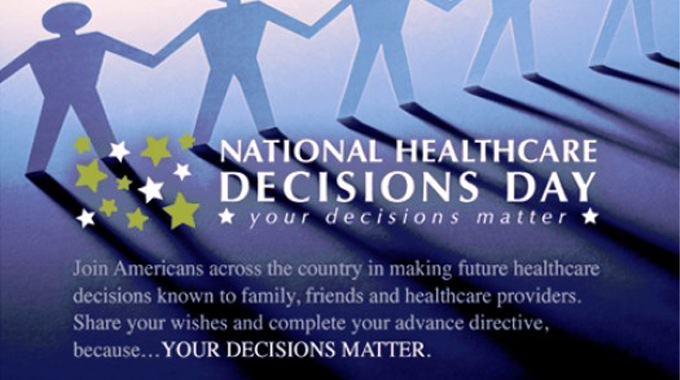 National Healthcare Decisions Week
Healthcare decisions can be difficult and Ohio's Hospice LifeCare, your community-based, not-for-profit hospice is here to help you and your loved ones with discussing wishes regarding healthcare decisions. Ohio's Hospice LifeCare offers a free program called CHOICES. In this program, our trained staff will help you place your goals, wishes and thoughts in writing through the completion of an Advanced Directive which can include a Living Will and/or Healthcare Power of Attorney.
The National Hospice and Palliative Care Organization (NHPCO) is promoting National Healthcare Decisions Day on Sunday April, 16 to inspire, educate and empower the public about the importance of advance care planning. National Healthcare Decisions Day is a collaborative effort of national, state and community organizations committed to ensuring that all adults with decision-making capacity in the United States have the information and resources to communicate and document their future healthcare decisions.
Plans are a central part of life. We plan for weddings, births, career and retirement. Planning for events requires conversations with many individuals. However, rarely do we have conversations, referred to as Advanced Care Planning, with important people in our lives about how we want to be cared for when we need emergency or end-of-life care.Don't leave your family and loved ones guessing—put your wishes in writing. It is an act of love. Call Ohio's Hospice LifeCare at 800.884.6547 with your questions about our CHOICES program or visit our website at www.LifeCareHospice.org. For more information on National Healthcare Decisions Day, visit the NHPCO website at www.nhpco.org