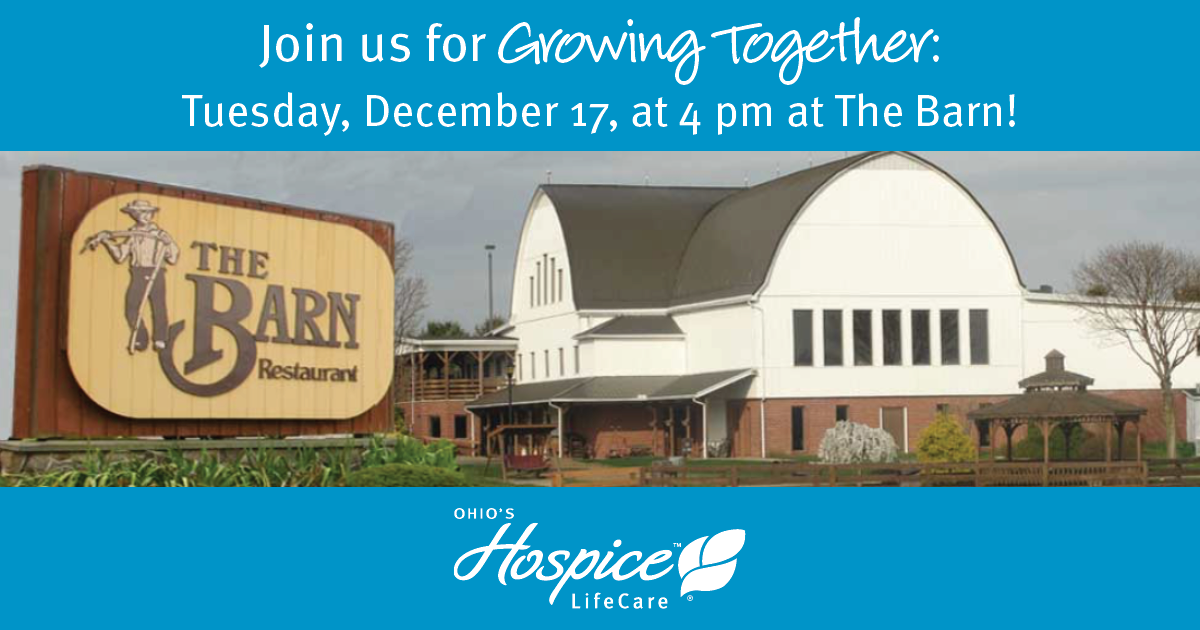 Ohio's Hospice LifeCare's Growing Together Bereavement Support Group to Meet on Dec. 17
Ohio's Hospice LifeCare will host its next monthly bereavement support group, Growing Together, on Tuesday, Dec. 17, 4-6 pm, at The Barn Restaurant (877 W. Main St., Smithville, OH 44677).
The group is for those who have lost a loved one. Growing Together meets the third Tuesday of each month for a meal and to enjoy the fellowship of others who also have experienced the loss of a loved one.
"This is a time to connect with others who are on a similar journey," said Lynn Lilly, bereavement counseling professional at Ohio's Hospice LifeCare. "We reminisce, laugh and forge new relationships." 
All who have lost a loved one are welcome to attend. For more information, call 937.264.4899.
Ohio's Hospice LifeCare, a not-for-profit organization established in 1982, is an affiliate of Ohio's Hospice that serves communities in Wayne, Holmes, Ashland and Medina counties. It embodies the spirit of neighbors caring for neighbors with a commitment to relieve suffering, ease fears and provide companionship along life's last journey. Ohio's Hospice LifeCare addresses patient and family needs wherever the patient calls home. Services also include the access to the Stanley C. and Flo K. Gault Inpatient Pavilion, providing short-term patient care to manage acute symptoms, adjust medications or stabilize patient condition.