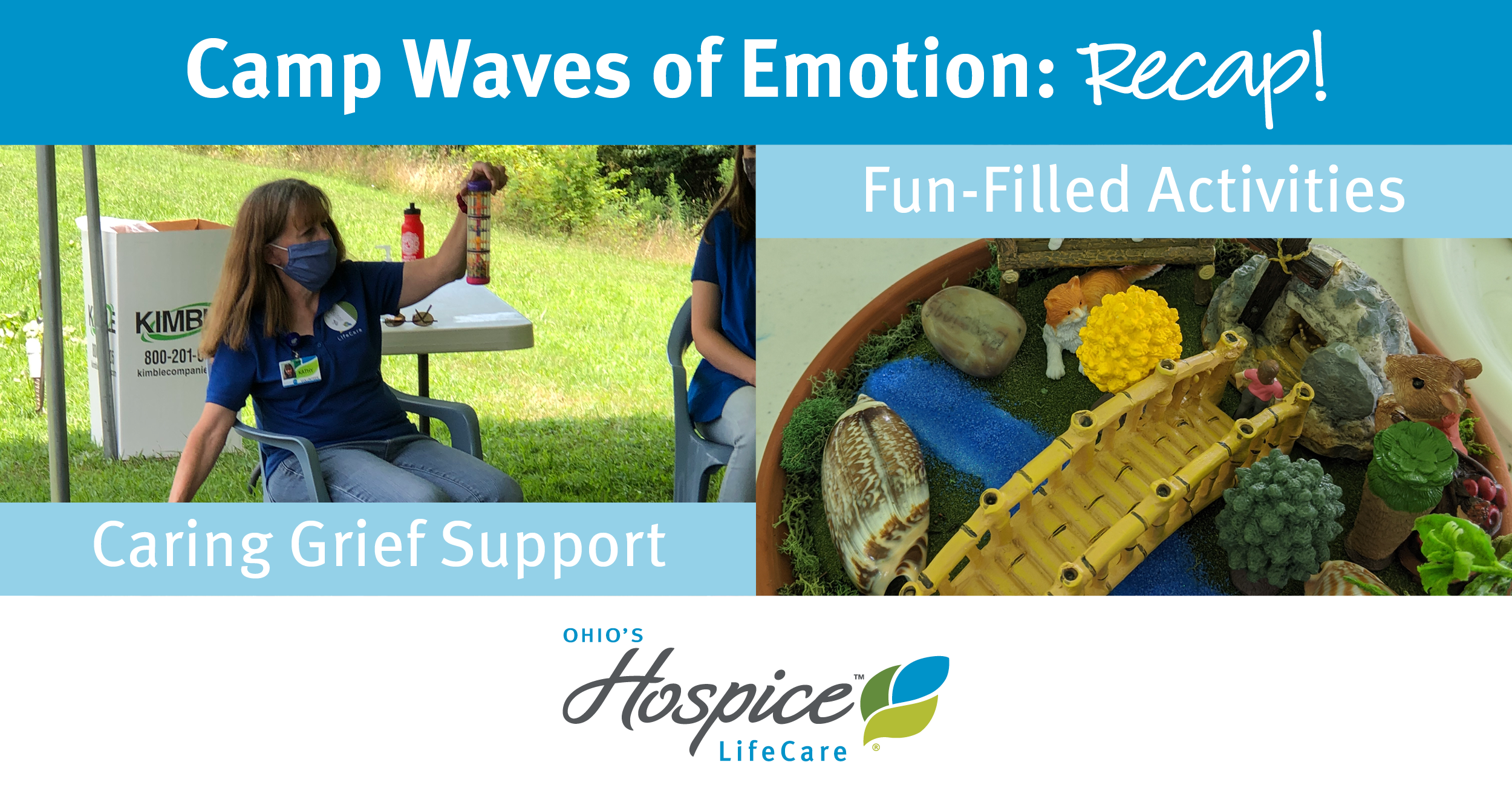 Ohio's Hospice LifeCare Hosts Grief Camp for Children
Ohio's Hospice LifeCare held its 11th annual Camp Waves of Emotion, a grief camp for children who have experienced the loss of a loved one or an anticipated loss. Eight children attended the camp in early August.
Camp Waves of Emotion is for children, ages 7-12, who have lost a loved one or anticipating a loss and may have difficulty articulating their fears of abandonment, separation, loneliness or emotional pain. Children's coping skills are much more limited than adults, so it is important for children to gather together and express their feelings, have their questions answered, and talk about loss as a normal aspect of life.
During the camp, the children created memorial gardens as part of an art project. Each object in the garden had a significant meaning to them based on their relationship and experiences shared with their terminally ill or deceased loved one.
In addition, bereavement counseling professionals and volunteers at Ohio's Hospice LifeCare utilized music, play and grief curriculum along with visits from therapy dogs to assist children in identifying their unspoken feelings.
"The kids in attendance were fully engaged, and received invaluable support on their grief journey," said David Hargrave, LSW, CTP, bereavement counseling professional at Ohio's Hospice LifeCare. "Attendees – even the shy ones – were able to identify and externalize feelings of loss and sadness."
Ohio's Hospice LifeCare is grateful for the generous support from the community that enables the not-for-profit hospice to provide superior care and superior services to patients and families.
"A philanthropic gift to Ohio's Hospice LifeCare allows programs like Camp Waves of Emotions to exist and provide a critical outlet to grieving children," said Katherine Ritchie, gift officer at Ohio's Hospice LifeCare. "Bereavement programs that support our entire community are an integral part of the offerings at LifeCare."
The camp was held in-person and followed the Ohio Department of Health's state guidelines put forth for day camps.
Ohio's Hospice LifeCare, a not-for-profit organization established in 1982, is an affiliate of Ohio's Hospice that serves communities in Wayne, Holmes, Ashland and Medina counties. It embodies the spirit of neighbors caring for neighbors with a commitment to relieve suffering, ease fears, and provide companionship along life's last journey. Ohio's Hospice LifeCare addresses patient and family needs wherever the patient calls home. Services also include access to the Stanley C. and Flo K. Gault Inpatient Pavilion, providing short-term patient care to manage acute symptoms, adjust medications, or stabilize patient condition.