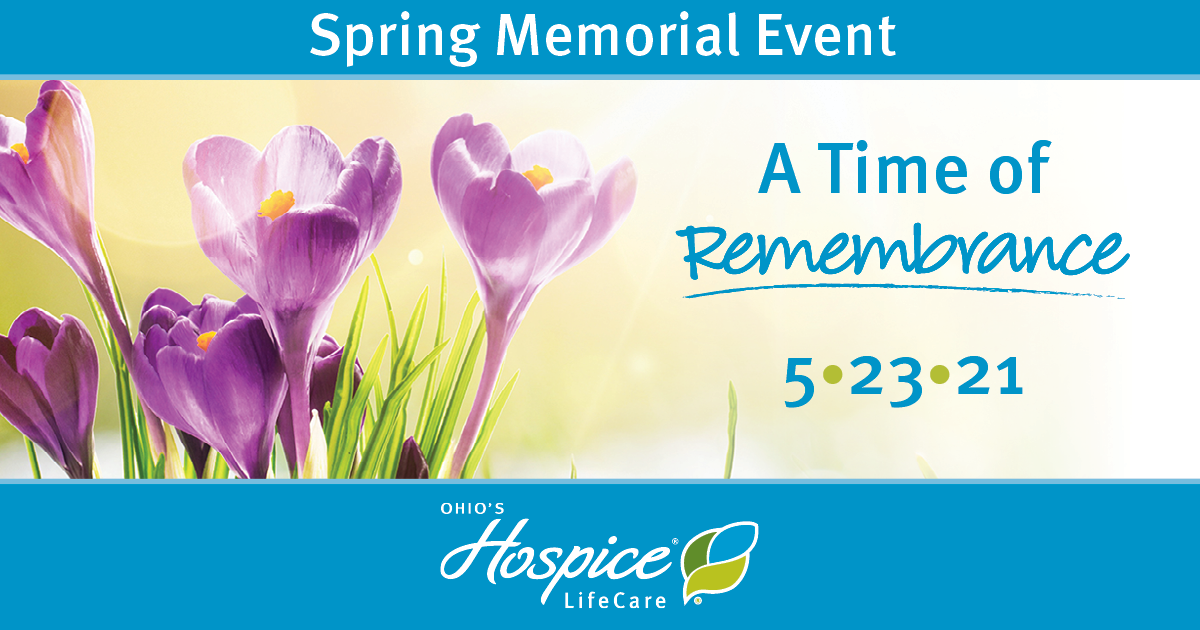 Ohio's Hospice LifeCare's Spring Memorial Event to Honor and Remember Loved Ones
Ohio's Hospice LifeCare Pathways of HopeSM Grief Counseling Center is hosting a Spring Memorial on Sunday, May 23, 2021, at 3 pm, at the Wayne County Fairgrounds Event Center (199 Vanover St., Wooster, OH 44691).
This will be a time of remembrance for loved ones who have died during the past year. David Hargrave, LSW, CTP, CGCS, bereavement counseling professional with Ohio's Hospice LifeCare, will lead the event.
The name of each deceased loved one will be read aloud. Participants are invited to send in two pictures of their loved one. These pictures will be included in a video tribute. The last day to submit pictures for the Spring Memorial is May 8.
While the event is free and open to the public, registration is required. To register, email PathwaysOfHope@lifecarehospice.org, call Ohio's Hospice LifeCare at 330.264.4899, or visit www.OhiosHospiceLifeCare.org/SpringMemorial2021 to register online.
If you register by email, please include the following information:
Number of attendees from your family.
Whether you would like your loved one's name to be read aloud.
Two photographs of your loved one for the video tribute, if desired.
Whether you plan to bring a picture to the Ohio's Hospice LifeCare office in Wooster to be scanned instead of emailing it.
Attendees will be required to wear face masks and follow social distancing guidelines. If you have any additional questions, please call David Hargrave at Ohio's Hospice LifeCare at 330.264.4899.
Ohio's Hospice LifeCare, a not-for-profit organization established in 1982, is an affiliate of Ohio's Hospice that serves communities in Wayne, Holmes, Ashland and Medina counties. It embodies the spirit of neighbors caring for neighbors with a commitment to relieve suffering, ease fears, and provide companionship along life's last journey. Ohio's Hospice LifeCare addresses patient and family needs wherever the patient calls home. Services also include access to the Stanley C. and Flo K. Gault Inpatient Pavilion, providing short-term patient care to manage acute symptoms, adjust medications, or stabilize patient condition.