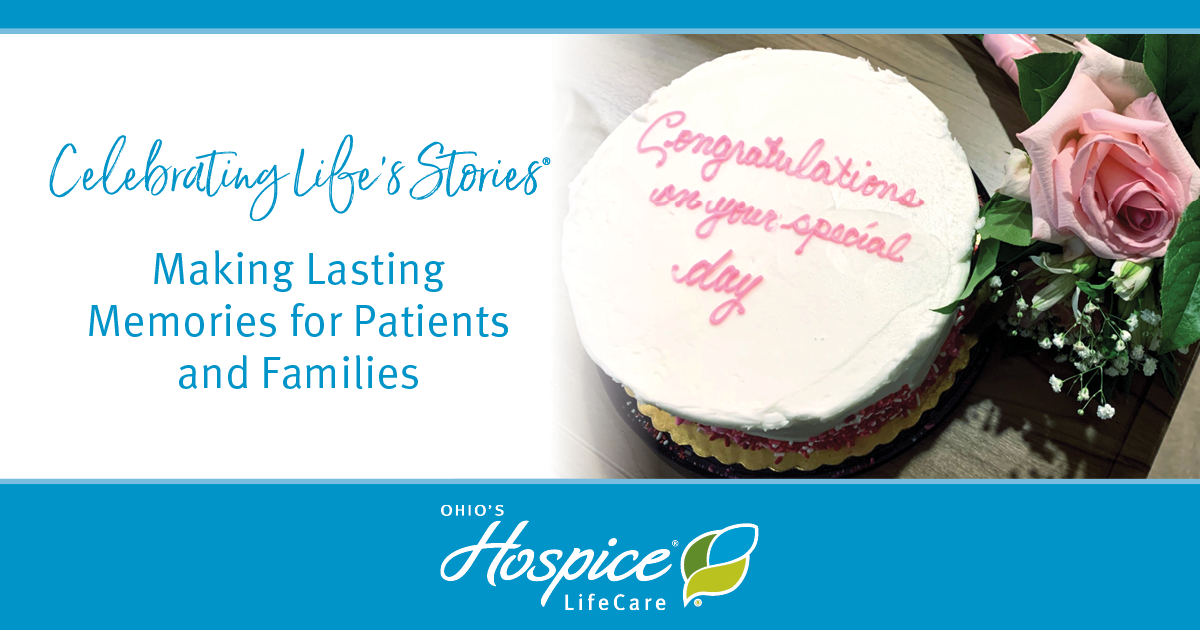 Ohio's Hospice LifeCare Fulfills Patient's Wishes With Wedding Ceremony
The team at Ohio's Hospice LifeCare is dedicated to Celebrating Life's Stories® for each patient and family they have the privilege of serving. When the team learned of a patient who wanted to marry her significant other, they jumped into action to give the couple a memorable wedding in the Stanley C. and Flo K. Gault Inpatient Pavilion at Ohio's Hospice LifeCare.   
"The patient mentioned they had wanted to get married, but figured it couldn't happen at this point," said Nichole Miller, RN at Ohio's Hospice LifeCare. "He was absolutely devoted to her, and he served as her primary caretaker. It was awesome how attentive and kind he was to her."
The care team worked together to create the special day for the patient. Tonya Snyder, a personal care specialist at Ohio's Hospice LifeCare, helped the patient get dressed and ready for her wedding day. Rachel Norwich, medical social worker at Ohio's Hospice LifeCare, went to a local flower shop to pick up a boutonniere and bouquet for the bride and groom. The culinary team provided a small cake and served sparkling cider to celebrate the occasion.
With the patient in her chair and her soon-to-be husband beside her, the officiant stood with them in her room to perform their vows.
"There were so many things I loved about this moment," Miller said. "I loved that we all worked together as a team to make it happen. I loved that every detail worked out. It was beautiful to see the love and excitement in the boyfriend's face."
The next day, the patient passed away. "It felt amazing to help this patient fulfill her end-of-life wishes," Miller said.
Ohio's Hospice LifeCare provides compassionate end-of-life care to make life a little more comfortable for patients, whether it is a wedding, a baptism, sing a favorite hymn, enjoy a favorite sweet, or make them smile.
"We all do our best to implement an empathetic form of practice, no matter our role," Norwich said. "We approach all patients and their families with understanding and a commitment to support them in their goals, whatever that may be."
Ohio's Hospice LifeCare helps patients and their families through some of life's most difficult moments and challenges.
"My favorite part of working with hospice patients is getting to help care for someone at the end of life," Miller said. "It is so rewarding and fulfilling to know I have done all I can to make someone's last days here on Earth as comfortable as possible, but to also assist the family in walking through this difficult time."
Being able to provide those experiences and superior care to patients and families is possible through support from the community.
"Gifts to Ohio's Hospice LifeCare allow us to respond to immediate and emerging needs as patients and families navigate the last season of life," said Katherine Ritchie, major gift officer at Ohio's Hospice LifeCare. "We help patients live as fully and comfortably as possible and maintain a sense of dignity."
Support from the community allows Ohio's Hospice LifeCare to fulfill patients' wishes at the end of life. "In the case of this wedding, those memories will be with the family forever," Ritchie said. "Being able to photograph and video the ceremony, turn the photos into an album, see the smiles and hear the laughter all contribute to our mission of celebrating life's stories."
To learn more about how you can make a difference in the lives of patients and families, visit https://www.ohioshospicelifecare.org/waystogive/ or call 330.264.4899.