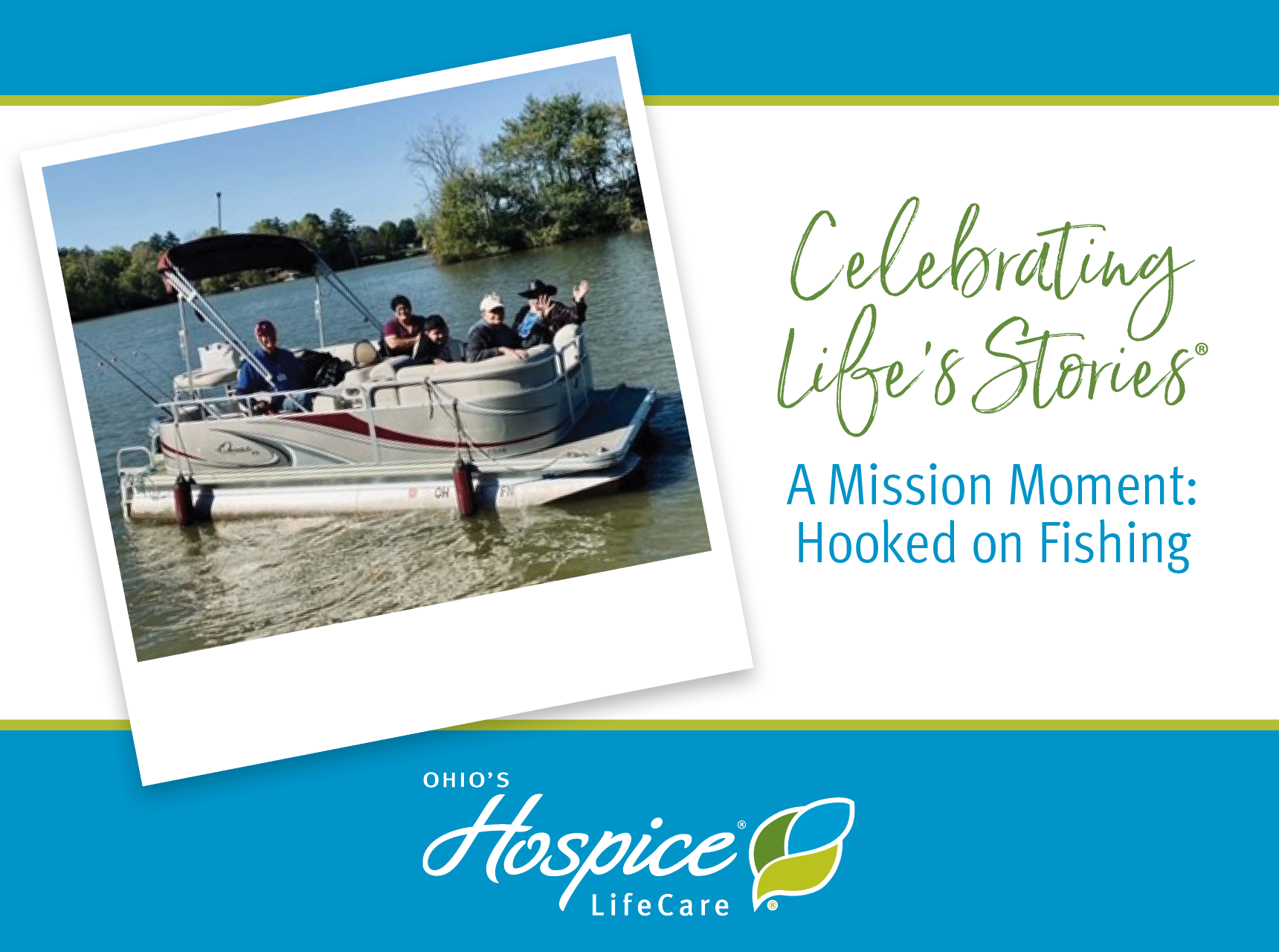 A Fishin' Mission Moment at Ohio's Hospice LifeCare
Angel "Louie" Cruz, a patient at Ohio's Hospice LifeCare and an avid fisherman, recently spoke about his love of fishing with a member of his care team. He worried that it might be too late to get back out on the water to fish, as he was concerned about getting in and out of the boat because of his health issues.
The care team identified Louie's wish as a quality-of-life goal. "The care team is always looking for ways to add joy to our patient's lives," said Beth Gardner, medical social worker at Ohio's Hospice LifeCare. "Our care team works together to meet the needs of each and every patient we are honored and privileged to serve. We're grateful that we could help Louie get back out on the water to fish." 
Volunteer Services helped fulfill Louie's wish. When volunteers Marilyn and Mark Gustafson heard about Louie's wish to go fishing for one more day on the water, they jumped at the opportunity to help. They volunteered to take Louie and his family out on the Charles Mill Lake in their boat. "It was an extremely easy assignment," Mark Gustafson said. "Marilyn and I enjoy sharing our lake access and our boat. I enjoy driving the boat. We were more than happy to say yes." 
Despite it being late in the boating season, Louie and his family were able to get out on the water and have a wonderful time. "It was one of my best days ever," Louie said, "When I'm out on the water, my mind just clears, and answers come to me. It relaxes me." 
Louie's daughter, Jessica Collado, enjoyed the fishing trip with her father. "It was a once-in-a-lifetime opportunity," she said. "I don't remember seeing him this happy in a really long time."  
Louie's grandsons also joined him for the fishing trip. They caught three fish, and afterwards told fish stories about "the one that got away" that was "this big" with outstretched hands.  
Louie and his family were very thankful to the Gustafsons. "They are just wonderful people," said Louie, who enjoyed reminiscing about past fishing trips with the Gustafsons. "They were so kind, and they interacted with the kids."  
Louie was born in Puerto Rico before moving to St. Thomas at two years old and then to the Bronx, New York, at seven. He spent his formative years there before moving to Cleveland with his family. After settling in Ohio, Louie started a moving company, a shipping company, and a scrap metal business. He has two children and grandchildren whom he describes as great fishermen.  
Ohio's Hospice LifeCare, a not-for-profit organization established in 1982, is an affiliate of Ohio's Hospice that serves communities in northeast Ohio. It embodies the spirit of neighbors caring for neighbors with a commitment to relieve suffering, ease fears, and provide companionship along life's last journey. Ohio's Hospice LifeCare addresses patient and family needs wherever the patient calls home. Services also include access to the Stanley C. and Flo K. Gault Inpatient Pavilion, providing short-term patient care to manage acute symptoms, adjust medications, or stabilize patient condition.