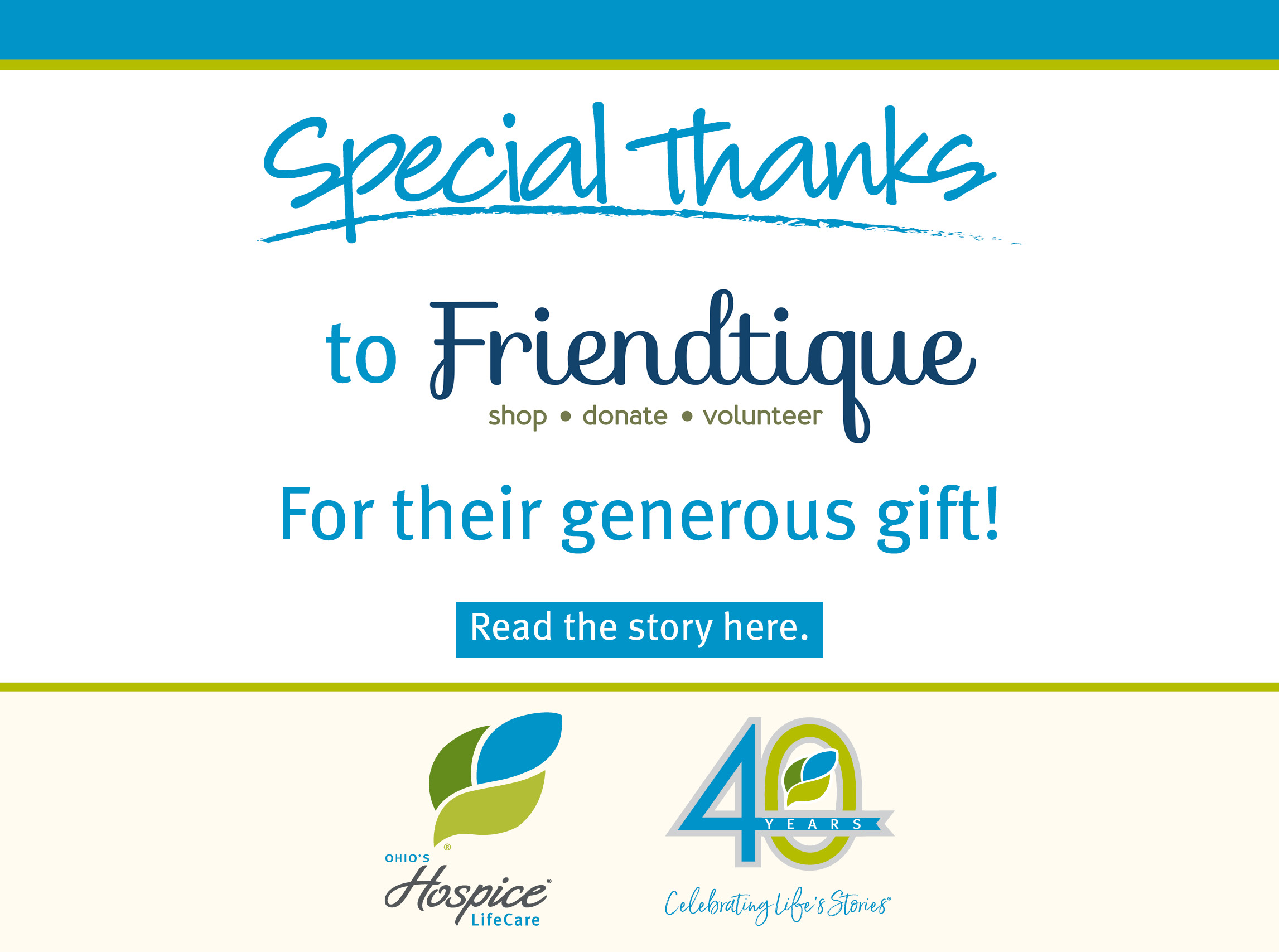 Friendtique Continues Its Loyal Support to Ohio's Hospice LifeCare with $25,000 Donation for Patient Care and Services
Ohio's Hospice LifeCare continues to be grateful for its long-standing partnership with Friendtique. A recent $25,000 donation from Friendtique, a longtime boutique resale shop in downtown Wooster, will help support Ohio's Hospice LifeCare's Community Care Fund.
"When I think of time, talent and treasure, Friendtique defines this for Ohio's Hospice LifeCare," said Katherine Ritchie, development director for Ohio's Hospice LifeCare. "Our community continues to donate, shop and volunteer, all to benefit the Community Care Fund and our mission of a not-for-profit hospice in our community."
Located in downtown Wooster at 223 W. Liberty St., Friendtique features furniture, artwork, household goods, décor, antique glassware, and jewelry. Friendtique's sister store, NEST, is a curated selection of some of the higher-end vintage home finds donated to Friendtique. Located at 132 N. Walnut St., NEST features endless shopping opportunities.
"We are grateful for Friendtique's continued support of our mission, which allows us to serve patients, regardless of their ability to pay," Ritchie said. "This generous gift directly supports patients and families in their time of need. By shopping or donating to Friendtique, you are supporting our mission."
Donations to Friendtique are accepted during business hours, Wednesday through Friday, 10 am to 5 pm, and Saturday, 10 am to 4 pm. For the latest news and sales at Friendtique, follow its Facebook page, which can be found on the website: https://www.friendtique.org 
Friendtique, and its sister store, NEST, are both staffed almost entirely by volunteers. To learn more about volunteer opportunities at Friendtique, visit: https://www.friendtique.org/volunteer
To learn more about Ohio's Hospice LifeCare, visit: https://www.ohioshospicelifecare.org/
Ohio's Hospice LifeCare, a not-for-profit organization established in 1982, is an affiliate of Ohio's Hospice that serves communities in northeast Ohio. It embodies the spirit of neighbors caring for neighbors with a commitment to relieve suffering, ease fears, and provide companionship along life's last journey. Ohio's Hospice LifeCare addresses patient and family needs wherever the patient calls home. Services also include access to the Stanley C. and Flo K. Gault Inpatient Pavilion, providing short-term patient care to manage acute symptoms, adjust medications, or stabilize patient condition. The Marilyn B. and Mark E. Gustafson Center for Supportive Care includes Ohio's Hospice LifeCare's Volunteer Services, the Pathways of HopeSM Grief Counseling Center, and transportation service and support.