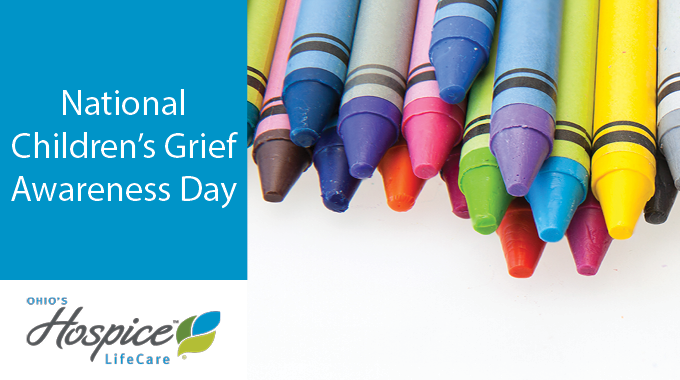 National Children's Grief Awareness Day Observation at Ohio's Hospice LifeCare
National Children's Grief Awareness Day will be observed on November 20, 2014. This day is set aside to bring attention to the fact that support can make all the difference in the life of a grieving child. It provides an opportunity to raise awareness of the impact that the death of a loved one has in the life of a child and provides an opportunity to make sure that children receive the support they need.
Children grieve differently than adults. It is important for those involved in a child's life to recognize the signs of grief and to provide help when and where it's needed. At Ohio's Hospice LifeCare, one of the ways we help children cope with loss is through our annual Camp Waves of Emotion which includes remembrance activities, companionship with others who are also suffering, and the teaching of stress-reduction techniques.
Below are online resources for those who are offering help and support to a grieving child. If you would like information about Ohio's Hospice LifeCare Bereavement Support programs, including Camp Waves of Emotion, please contact Lynn Lilly, bereavement counseling professional, at llilly@lifecarehospice.org or 330-264-4899.
Child Grief Resources:
The National Association of School Psychologists released this publication to offer tips for educators and parents on recognizing expressions of grief in children and suggests coping skills to share with them.
The National Alliance for Grieving Children offers this publication to share tips for providing help to a grieving child, based on research and practice of grief-support professionals.
Educational materials for parents of children coping with traumatic grief, including information on differentiating between normal and traumatic grief.
Includes section for educators who may be dealing with grieving children in their classrooms.