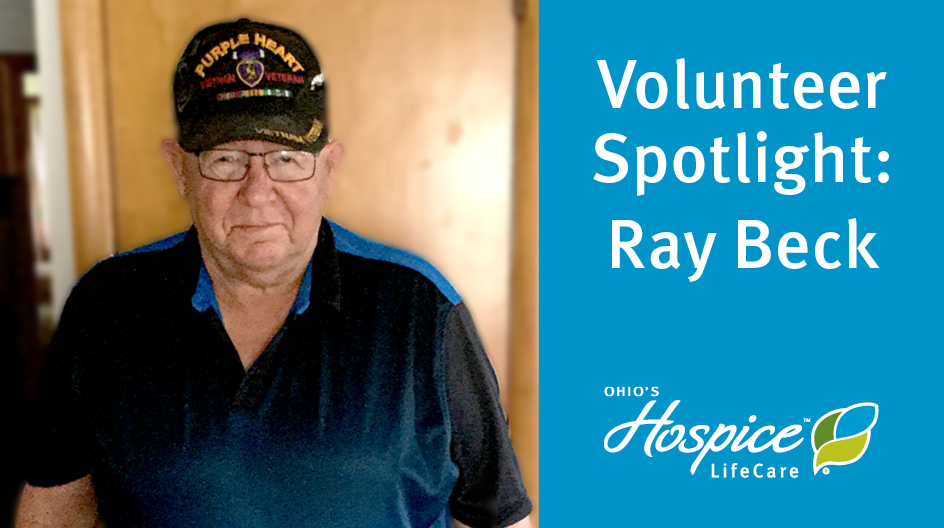 Volunteer Ray Beck Helps Patients and Families at Ohio's Hospice LifeCare
Since 2016, Ray Beck has been a volunteer with Ohio's Hospice LifeCare, filling in wherever he is needed to help serve patients and their families. Ray has learned that flexibility is key when it comes to lending a helping hand. He has delivered medicine, sat with patients in their homes, and even helped cook meals. To Ray, there is no better feeling than helping someone out when they need it most. 
Q. What has volunteering for Ohio's Hospice LifeCare taught you?
A. I have learned the importance of being nonjudgmental. We have to put our own feelings and opinions aside and just be there for a fellow person when they are in need. I have learned to be more vocal in my prayers for my patients. I've also learned the importance of a sense of humor!
Q. A sense of humor? Any particular memories stand out for you?
A. I don't have a thin skin, and I try to find humor in lots of things. There was one day when I was volunteering at a nursing home. I was sitting with a patient, and a fellow patient kept staring at me. So, I asked if I could help him with anything. He didn't need help. He just looked at me and said, "It would really be a rough life if yours is the last face I ever have to see!" I couldn't do anything but chuckle!
Q. Can you describe the work you do for Veterans?
A. As a former Marine, I became involved in the Vet-to-Vet Program. We present Veteran patients with an engraved plaque, which honors their service and sacrifice. I don't like to press any Veteran to talk to me if they don't want to, but often times they are happy to share in their experience with someone who has been through what they have. I became really close to a gentleman who served at the same time and close to the same place as me in Vietnam and it did us both a lot of good to talk about what we went through. Speaking to fellow Veterans is near and dear to my heart.
Q. How is your life different today because of the time you have dedicated as a volunteer?
A. I have met some really fantastic people along the way. I got to know people deeply. While it's hard to lose someone, I feel so glad I had the opportunity to get to know them. 
Q. What would you say to anyone interested in supporting Ohio's Hospice LifeCare?
A. Give in any way you can. We really need more people who are willing to lend their time, especially Veterans. It can be such a great experience. Even if you think you're not right for the job, Ohio's Hospice LifeCare will find a fit for you. There is something for everyone.