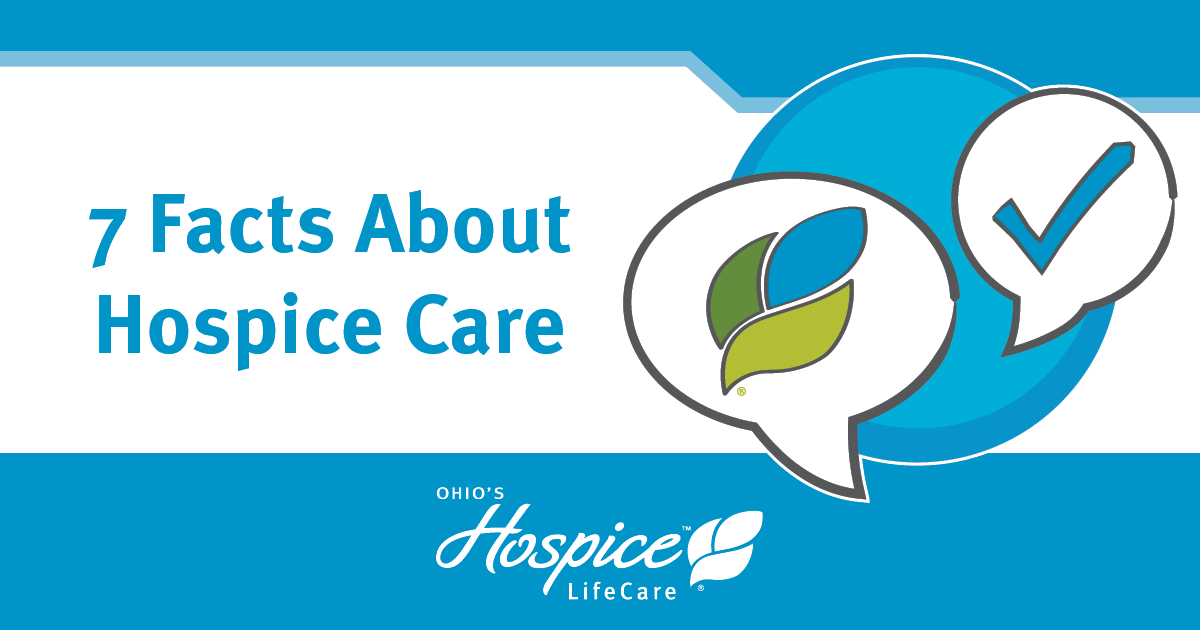 Seven Facts About Hospice Care
As we celebrate National Hospice and Palliative Care Month, we reflect upon the hospice care we are privileged to provide our patients and their families. In 2019, we're honored to provide superior care and superior services to more than 10,000 patients and their families in the 37 counties we serve throughout Ohio.
Hospice care is a concept of care. It's provided wherever the patient calls home. Hospice care emphasizes palliative, comfort-oriented care rather than curative treatment, as well as quality of life rather than quantity of life. Professional and personalized medical care is offered to provide comfort and symptom relief to anyone who is eligible to receive it. An interdisciplinary hospice team comprised of nurses, physicians, personal care specialists, volunteers, social workers, chaplains and bereavement counseling professionals, work together to meet the needs of patients and their families.
Here are a few facts about Ohio's Hospice and our hospice care:
Did you know that hospice care is available wherever you call home? We provide care to patients in their homes, nursing homes, assisted living facilities or residential care facilities. We also serve patients in our Hospice Houses and inpatient care centers.


Did you know that the earlier an individual receives hospice care, the more opportunity there is to stabilize a patient's medical condition and address other needs? We focus on quality of life and making the most of life.


Did you know that studies have shown that hospice care may actually extend a patient's life (for certain diagnoses) when care is started early enoughin the disease process? Because of close monitoring and treatment of symptoms, in addition to our interdisciplinary approach to patient care, hospice care may extend the lives of some terminally ill patients. The interdisciplinary approach to addressing emotional, spiritual and physical health also provides patients with an improved quality of life.


Did you know that hospice care is available to patients with a wide variety of conditions, including congestive heart failure, Alzheimer's disease or dementia, chronic lung disease or other diseases?


Did you know that most services, medications, supplies and equipment related to a patient's illness are covered under the Medicare or Medicaid Hospice Benefitand most private insurances, resulting in little to no cost for hospice care? Because Ohio's Hospice and its affiliates are not-for-profit hospices, we provide care regardless of a patient's ability to pay.Our expert interdisciplinary team, including hospice physicians; medical equipment; most medications; and grief support are all covered.


Did you know that the interdisciplinary hospice team visits patients at a frequency based upon individual need? Care also is available 24 hours a day/7 days a week as needed.Ohio's Hospice is able to provide continuous or crisis care for a limited period of time based on specific needs.


Did you know that not all hospice-care providers are the same? All licensed hospice programs are required to provide certain services, but the range of support services offered differ significantly between hospice providers. Like other medical care providers, business models differ. Some focus on profits, while Ohio's Hospice and its affiliates focus on superior care and superior services.
Ohio's Hospice and its affiliates are not-for-profit, community-based hospices. We are a partnership of mission-driven, not-for-profit hospices in Ohio committed to a shared vision of strengthening and preserving community-based hospices. Together as Ohio's Hospice, we provide unparalleled service to our patients and families facing life-limiting illnesses. Our mission is to celebrate the lives of those we have the privilege of serving by providing superior care and superior services to each patient and family.
Affiliates of Ohio's Hospice include Community Care Hospice, Hospice of Central Ohio, Ohio's Community Mercy Hospice, Ohio's Hospice at United Church Homes, Ohio's Hospice LifeCare, Ohio's Hospice Loving Care, Ohio's Hospice of Butler & Warren Counties, Ohio's Hospice of Dayton, Ohio's Hospice of Fayette County and Ohio's Hospice of Miami County.