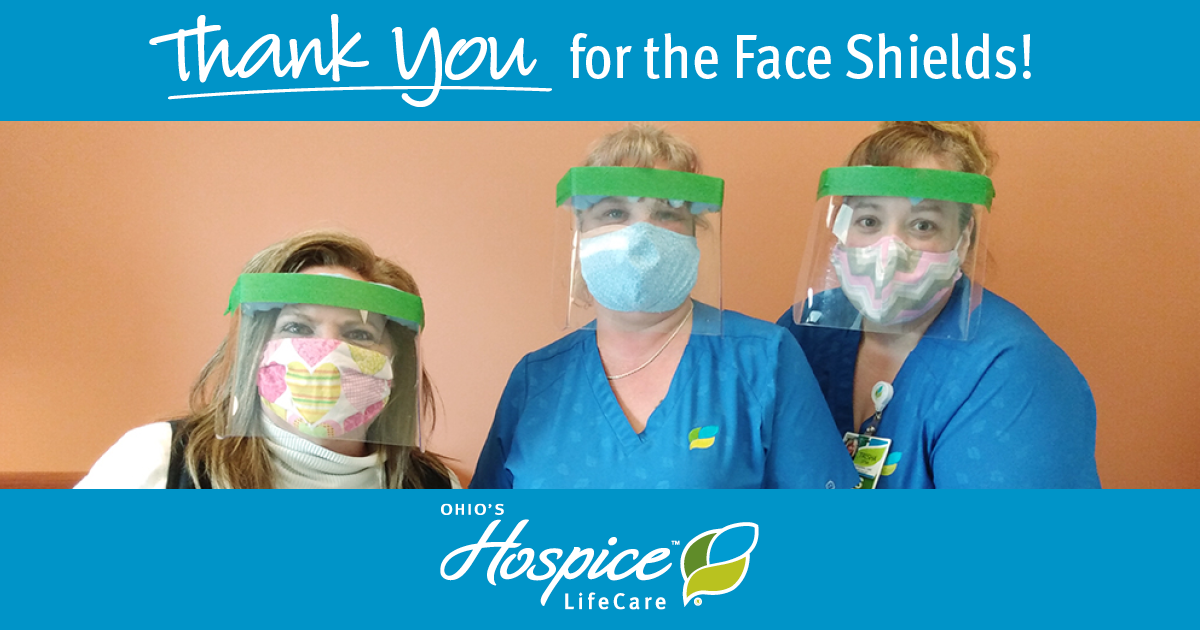 Ohio's Hospice LifeCare Volunteer Makes Face Shields for Staff
When Ohio's Hospice LifeCare paused its in-person volunteer opportunities because of COVID-19, volunteer Keith Ewald decided to make face shields for staff at the not-for-profit hospice. 
Initially, Ewald and his wife, Pam, were using page protectors to make face shields, but the couple learned they were not durable enough or clear enough to see through. Then, he had an idea to use 1/16" acrylic, like what is used in picture frames.
So, he called Wooster Glass Co. and spoke with a salesperson who suggested a specific type of acrylic that has more stability and does not crack under normal use. The salesperson quoted him price, and he went to Wooster Glass Co. that afternoon to pick up the acrylic.
When Ewald arrived, he learned that Wooster Glass Co. had donated the materials to Ohio's Hospice LifeCare to support his contribution of time and effort.
Pat Neyhart, vice president of Wooster Glass Co., said the donation was about being a part of the community. "We've been in this community since 1947. We appreciate everything people around the community do to help others," he said. "We help out wherever we can. We appreciate everything Ohio's Hospice LifeCare does for our community."
Ewald was touched by Wooster Glass Co.'s generosity and its support for Ohio's Hospice LifeCare.
"It totally blew me away," Ewald said. "We're grateful for the generosity of the Wooster Glass Co."
Ewald needed specific pieces to fit the shield construction and called Tignor's Hometown Hardware in downtown Wooster to find the pieces. After a conversation with Matt Tignor, one of the owners of the hardware store, Tignor's Hometown Hardware donated materials for the face shields.
"Keith's story struck home and we can all help each other out. We're all in this together," Tignor said. "As a small business, this was something I could do to help out the community. It has been amazing to see what the small-town community has done to help each other through this. It's been a blessing to be able to stay open to help."
The face shields that the Ewalds have given to Ohio's Hospice LifeCare have provided peace of mind to the care teams. Their donation has allowed the staff to have enough personal protective equipment (PPE) to continue being protected during COVID-19 while caring for patients.
"The staff are very appreciative that a volunteer who doesn't sew could find a way to give back in our time of need," said Ginger Preston, director of compliance and inpatient services at Ohio's Hospice LifeCare. "This allows them to have additional face shields when we have exhausted our supply. Having these face shields helps alleviate the stress of the staff worrying about having enough PPE to protect them."
Ohio's Hospice LifeCare, a not-for-profit organization established in 1982, is an affiliate of Ohio's Hospice that serves communities in Wayne, Holmes, Ashland and Medina counties. It embodies the spirit of neighbors caring for neighbors with a commitment to relieve suffering, ease fears, and provide companionship along life's last journey. Ohio's Hospice LifeCare addresses patient and family needs wherever the patient calls home. Services also include access to the Stanley C. and Flo K. Gault Inpatient Pavilion, providing short-term patient care to manage acute symptoms, adjust medications, or stabilize patient condition.