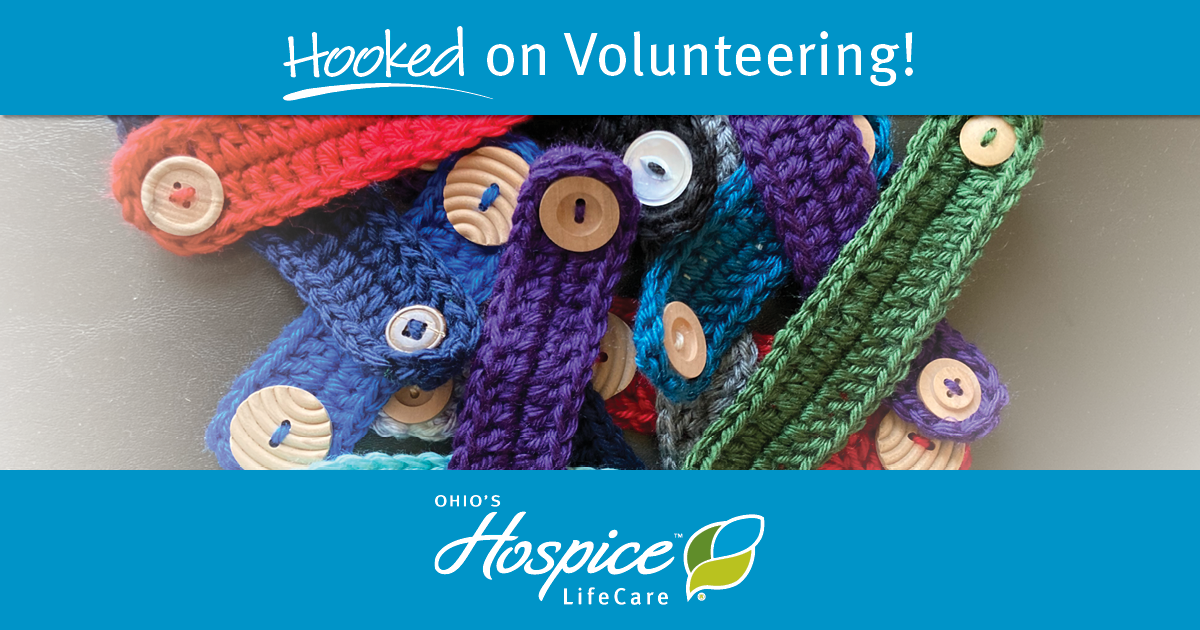 Volunteers Crochet Face Mask Extenders for Ohio's Hospice LifeCare Clinical Team
When the inpatient clinical team at Ohio's Hospice LifeCare mentioned that they were experiencing some discomfort to their ears from wearing masks throughout their shift, Beki McCurdy, manager of volunteer services, immediately sent out an email to all of the not-for-profit hospice's volunteers to see who would be willing to crochet face mask extenders.
"The crocheted face mask extenders take the pressure off the ears of our clinical team," McCurdy said. "There are plastic ones you can purchase, but they are less comfortable than the crocheted versions."
Within an hour of sending out an email, McCurdy received a reply from Brenda Norris who volunteered, along with a friend of hers. When Norris, who lives in Millersburg, received the email from Ohio's Hospice LifeCare about crocheting face mask extenders, she called her friend and neighbor, Deb Croup, and asked her whether she could help her make face mask extenders.
"She was very willing to do so, and she sent me the pattern so I could start making them," Norris said. "Little did I know that she would have some already made up. Knowing how important hospice is to me, Deb donated what she had."
Norris and Croup made 50 face mask extenders for the clinical team.
Ohio's Hospice LifeCare was a big support to Norris and her family when her husband was ill. "Ohio's Hospice LifeCare was always available 24 hours a day," said Norris, who has been a volunteer since April 2017. "Their concern, compassion and understanding is something that I'll never forget. I am forever grateful to the care team that took care of my husband."
Croup saw a photo of some face mask extenders and made up her own pattern. "I have been crocheting for many years," she said. "I had already made quite a few. So when Brenda told me that Ohio's Hospice LifeCare needed them, I was able to give them to her immediately."
Like Norris, Croup also has had family members who have received hospice care. "I know how important hospice is," Croup said. "I was very happy to do a small thing to help out."
Because of the COVID-19 pandemic, the volunteers at Ohio's Hospice LifeCare have not been able to provide respite care and visit with patients. However, they have been very willing to provide any support they can by volunteering in new ways. They have delivered medication and supplies, made face mask covers and face shields, and kept in contact with patients by phone and through cards and letters.
"No matter what our patients and staff need, our volunteers step up to meet the need," McCurdy said. "Our volunteers are such an extraordinary group of people. We appreciate their support of our mission."
Ohio's Hospice LifeCare, a not-for-profit organization established in 1982, is an affiliate of Ohio's Hospice that serves communities in Wayne, Holmes, Ashland and Medina counties. It embodies the spirit of neighbors caring for neighbors with a commitment to relieve suffering, ease fears, and provide companionship along life's last journey. Ohio's Hospice LifeCare addresses patient and family needs wherever the patient calls home. Services also include access to the Stanley C. and Flo K. Gault Inpatient Pavilion, providing short-term patient care to manage acute symptoms, adjust medications, or stabilize patient condition.