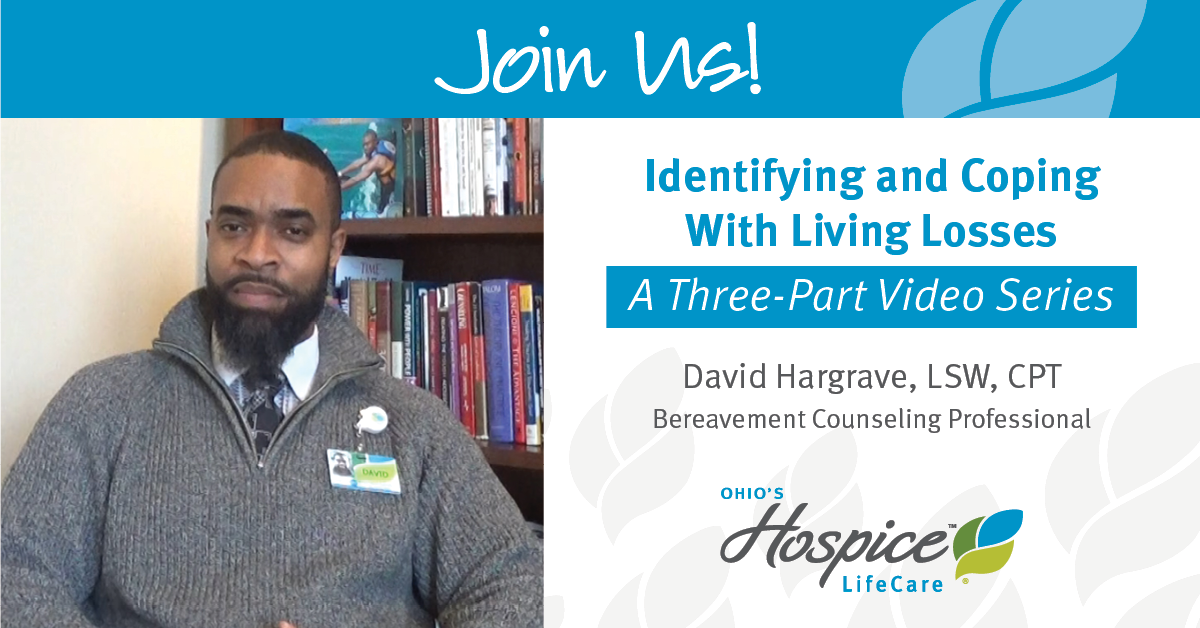 New Video Series Addresses Living Losses During the COVID-19 Pandemic
Ohio's Hospice LifeCare is launching a new video series, "Identifying and Coping With Living Losses." David Hargrave, LSW, CPT, bereavement counseling professional at Ohio's Hospice LifeCare, hosts the three-part video series about living losses during the COVID-19 pandemic.
"A living loss occurs when an individual experiences grief without a death," Hargrave said. "With normal grief, there is an internal movement towards self-repair, a return to the world. Because of COVID-19, people have lost a part of their everyday lives as they stay at home and limit in-person socializing."
As residents throughout the communities served by Ohio's Hospice LifeCare continue to address living losses during COVID-19, the resources offered through its grief support services can be helpful to them.
"Adjusting to the 'new normal' of the COVID-19 pandemic has created significant challenges for people throughout the community," Hargrave said. "Living losses change our sense of normality and challenge our assumptive world. Grief resources can be beneficial as we process our losses."
In Part 1 of the video series, Hargrave discusses and defines grief and living losses. He explains how living losses include moving, losing a job, living with a chronic condition, the breakup of a relationship, the death of a dream, loss of routine and changes in family patterns.
"Grief is the natural human response when we lose someone or something we love," Hargrave said. "When there are losses, or we lose things, there is an automatic grief response. With living losses, no one has died."
Part 2 of the video series continues the discussion about bereavement and living losses. Hargrave talks about ways to grieve and provides positive coping tips.
"During the COVID-19 pandemic, people have experienced living losses, including financial losses or the loss of a job," Hargrave said. "Each of us experiences living losses in our own way."
In Part 3 of the video series, Hargrave discusses the four tasks of mourning – accepting the reality of loss; accepting the pain of the loss; adjusting to a new environment; and connecting with the past and accepting a new normal. In addition, he identifies the positive coping skills and strategies that can help individuals adjust to a new environment of living losses during the COVID-19 pandemic.
"It's important to work through our grief in a healthy manner," he said. "To cope with living and symbolic loss, we need to take care of ourselves, establish a routine, limit news and information, and engage in meaningful age-appropriate discussions."
To view the three-part video series, go to https://www.ohioshospice.org/living-loss-videos/. To speak with a bereavement counseling professional, call Hargrave at 330.264.4899.
Ohio's Hospice LifeCare, a not-for-profit organization established in 1982, is an affiliate of Ohio's Hospice that serves communities in Wayne, Holmes, Ashland and Medina counties. It embodies the spirit of neighbors caring for neighbors with a commitment to relieve suffering, ease fears, and provide companionship along life's last journey. Ohio's Hospice LifeCare addresses patient and family needs wherever the patient calls home. Services also include access to the Stanley C. and Flo K. Gault Inpatient Pavilion, providing short-term patient care to manage acute symptoms, adjust medications, or stabilize patient condition.