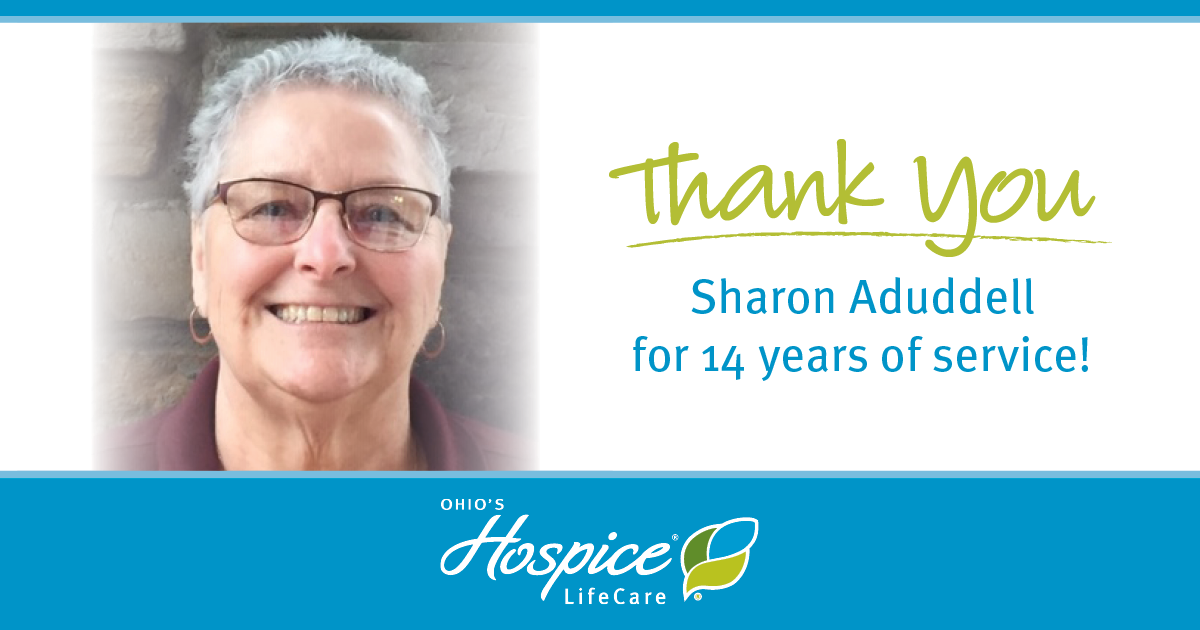 Nurse Retires After 14-Year Career With Ohio's Hospice LifeCare
Since the beginning of her career as a nurse, Sharon Aduddell, LPN, knew she was meant to care for patients during the final months of their lives.
"I really found satisfaction from those patients," said Aduddell, who recently retired from Ohio's Hospice LifeCare after a 14-year career with the not-for-profit organization. "I enjoyed being able to make them more comfortable, in addition to providing support to their families."
She began her career in 1976 as a nursing assistant in a nursing home where she cared for geriatric patients who had life-limiting illnesses. As her career progressed, she was working at the Millersburg Clinic, going into nursing homes with the doctors and started to meet the hospice workers who came in to see residents.
"It was really a calling. I would ask them if they had jobs, and they'd tell me to come over. After a few times, I was drawn and made the move," Aduddell said. "The people I worked with through hospice are amazing, and it truly is a calling for everyone there."
Aduddell began with Ohio's Hospice LifeCare as a crisis care LPN (licensed practical nurse) with Susan Richardson, a co-worker and friend from nursing school. Together, they covered continuous care and provided one-on-one care for patients and their families.
In 2008, Aduddell moved on to an interdisciplinary care team and began visiting patients as part of the team. After nine years in that role, she moved into a new role as a referral nurse.
"As a young nurse, the crisis and continuous care was the best. In nursing there's nothing better than to be able to provide that one-on-one bedside care," Aduddell said. "As an older nurse in the intake nurse role, I helped a lot of people and provided more education to them."
In her role as an intake nurse, she emphasized to patients and their families that there is more to hospice and palliative care than dying. "Hospice care can help assure quality of life by providing personalized care from medical professionals, keeping patients comfortable, and supporting family caregivers," she said. "The support and education that is available to all is plentiful."
Ohio's Hospice LifeCare is grateful to Aduddell for her dedication and commitment to the not-for-profit organization's mission. "Sharon has provided our patients and families with superior care and superior services throughout her 14 year-career at Ohio's Hospice LifeCare," said Debbie Meadows, director of clinical services at Ohio's Hospice LifeCare. "We're thankful for the expertise, kindness and compassion that she has shown to those we are privileged to serve. Sharon will be greatly missed by our staff, patients and families."
In retirement, Aduddell plans to spend time fishing and camping, while staying in touch with her hospice family.