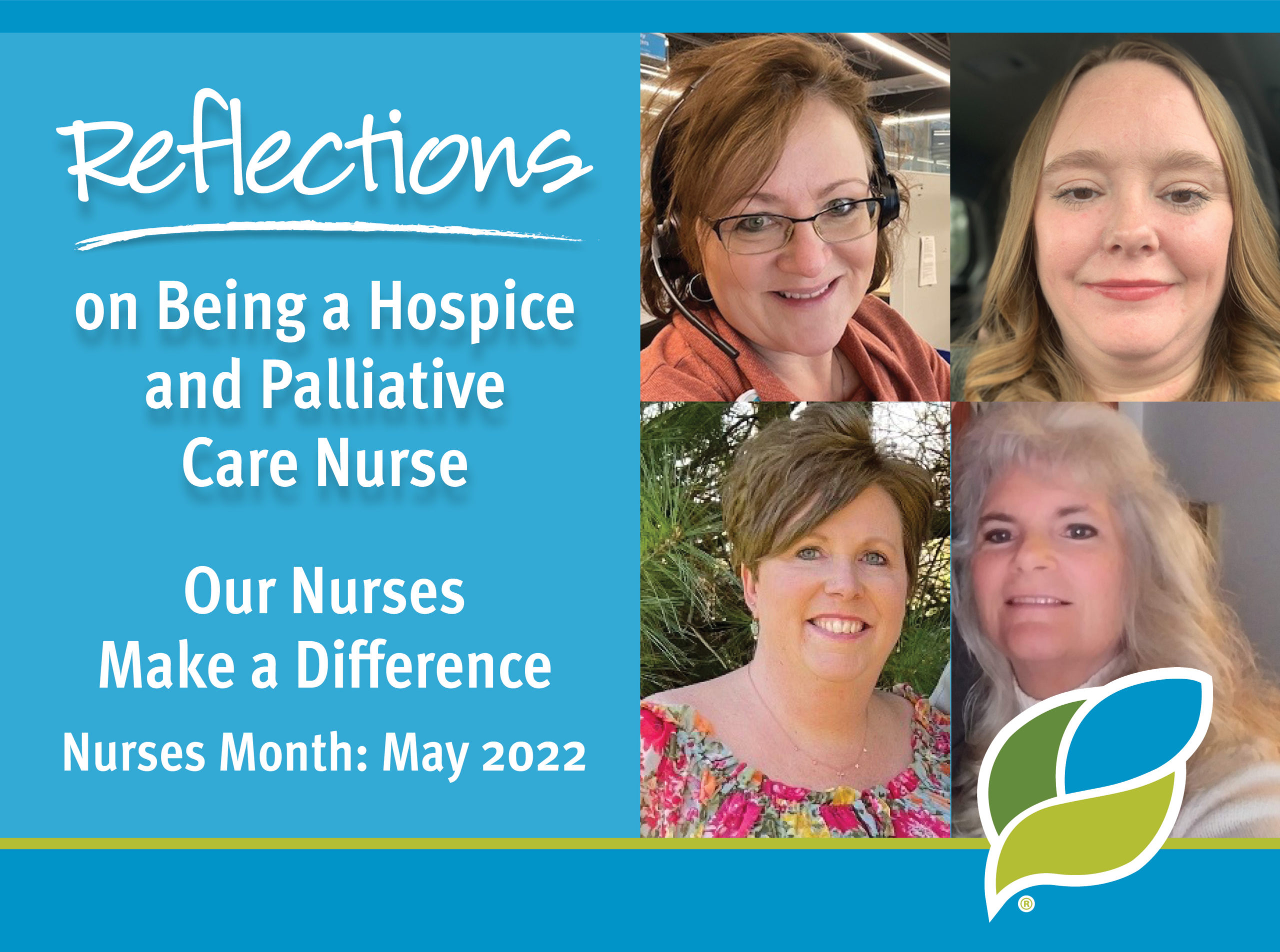 Reflections on Being a Hospice and Palliative Care Nurse
As we celebrate Nurses Month throughout the month of May, we are recognizing nurses for their commitment to the profession and for providing compassionate care and support to the patients they serve. We thank our nurses for their dedication to our mission to celebrate the lives of those we have the privilege of serving by providing superior care and superior services to each patient and family.
We invite you to learn more about our nurses at Ohio's Hospice LifeCare.
Miranda became a nurse to help people and to have more of a purpose in addition to a rewarding career. She loves the critical thinking involved in being a nurse and the challenge each day brings. As a hospice nurse, one of Miranda's favorite memories is a patient's wedding. After divorcing years ago and getting back together, the patient and his ex-wife wanted to get remarried. The care team helped arrange the wedding. Flowers were delivered and a pastor came to officiate the wedding. The patient was fatigued and short of breath, but when it was his turn to say, 'I do,' it was the clearest thing he had said since admission. "We get to make an impact on patients' lives like this frequently and be a part of their experience and memories," she said. "I'm very grateful to be able to be involved and part of such an amazing team of people."
Annie believes that her purpose in life is to bring others peace and comfort. Being a hospice nurse allows her to help those most in need of that. One of her favorite memories as a nurse is watching a patient's wedding in the inpatient care center. "Kindness means serving others, being nonjudgmental, and being empathetic in all circumstances," she said.
Debbie was always interested in helping other people. She had a strong interest in medicine and the career opportunities within nursing. To her, kindness means listening to patients and families and recognizing and hearing what is important to them to provide the best care. She has many memories from her years as a nurse. "As a hospice nurse, being present during the sacred time of a patient's death is truly unforgettable," she said.
Leann started her career as an STNA and fell in love with caring for people. From there she decided to further her ability in helping people by becoming a nurse. To her, kindness means caring for patients in the moment, wherever they are in their journey, to make them feel heard and cared for. One of Leann's favorite memories as a nurse is a patient who held on for several days. He was very close to his dog, and she suggested letting his dog lie with him. The dog laid on his chest, licked his face, and the patient's daughter reassured him that she would take care of the dog. He took a big last breath, like he was waiting for his dog to say goodbye, and the dog snuggled with him. To her, kindness means caring for her patients in the moment, wherever they are in their journey, to make them feel heard and cared for.
To learn more about Ohio's Hospice LifeCare, please visit: www.OhiosHospiceLifeCare.org