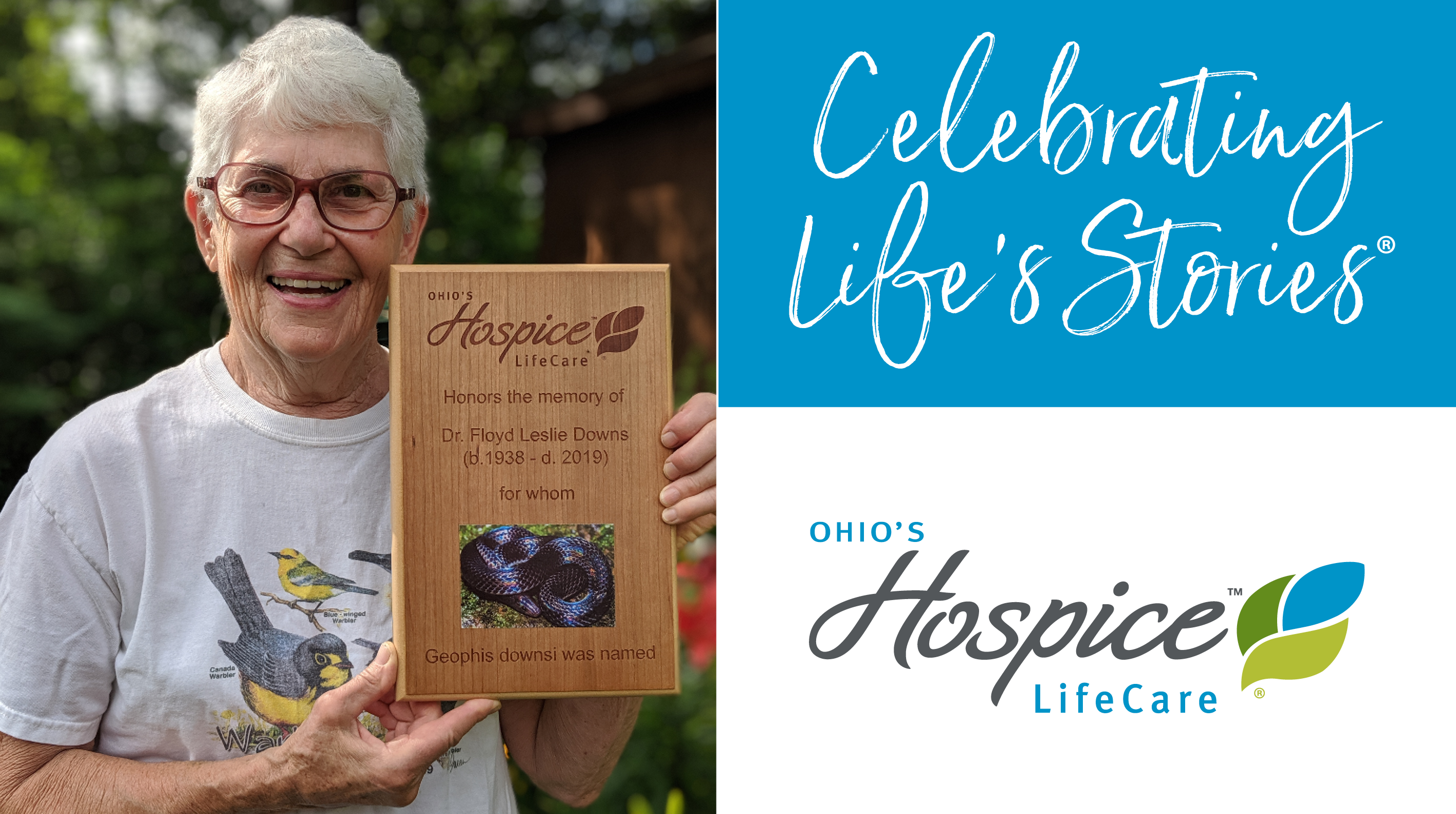 Ohio's Hospice LifeCare Care Team Finds Patient's Namesake
When Keri Shuman, RN care manager at Ohio's Hospice LifeCare, and Mark Schmidt, medical social worker at Ohio's Hospice LifeCare, walked in the Downs' home for the first time, they expected a routine initial patient visit. After two and a half hours of talking with Floyd Downs, Ph.D., and his wife, Joanne, they learned that Dr. Downs had been a herpetologist and was one of the world's foremost experts on Costa Rican ground snakes.
For 35 years, Dr. Downs taught in the biology department at The College of Wooster, served as chair of the department and took students into the field to experience the diversity of life. While his research in Ohio focused on mole salamanders found in the northwestern part of the state, Dr. Downs contributed much of his research career to the snakes of Costa Rica.
Dr. Downs published a major study of the relationships among a large group of secretive snakes from Central America. When a previously unidentified species was discovered in southern Costa Rica, the discovers named the snake Geophis downsi in recognition of the work Dr. Downs had contributed.
Dr. Downs mentioned to Keri and Mark that he had a snake named after him, but that he had never seen a picture of his namesake. Keri did a Google search for Geophis downsi to find a picture of the snake. He was excited to see a picture of the snake named after him and told Joanne it was his immortality on Earth because the name would always be in herpetology literature.
At the next care team meeting, Keri and Mark shared the story of Dr. Downs and showed the picture to the care team. The team discussed ways to share the photo with the Downs family and commemorate Dr. Downs' achievements throughout his career. The team reached out to volunteer coordinators, Beki McCurdy and Elisa Stoyle, who worked to have a plaque made in honor of Dr. Downs and the snake.
The plaque was presented to Joanne in memory of her late husband and she quickly chose a place to hang it—right above a picture of her husband—as a memorial of his contributions to the natural world.
"I was blown away when the plaque was brought to me and can't wait to show our family," Joanne said. "That was an amazing thing for Ohio's Hospice LifeCare to do for us. The care that hospice provided in our own home was excellent, but this was certainly very special."