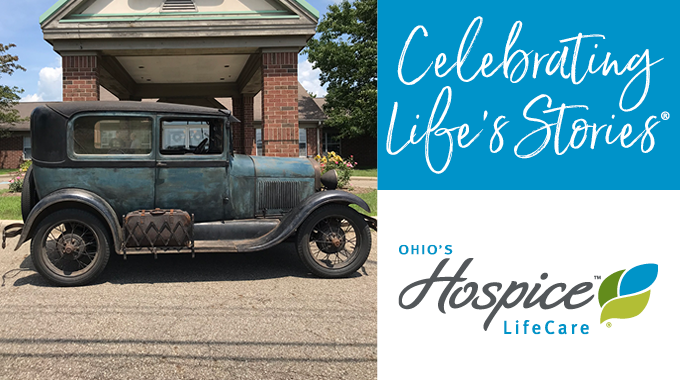 Connecting the Past to the Present: Ohio's Hospice LifeCare Patient Reunited with Ford Model A
When Brian Revak finally bought his dream unrestored Ford Model A, he began a journey to learn the history of the car and meet the people who had owned it before him. That journey connected him with Freada Hoover, an Ohio's Hospice LifeCare patient, who owned the car 50 years ago.
Freada and her husband, William, were a car-loving duo who owned Bill's Speed Shop in Navarre, Ohio. The couple raised their daughters, Mary Rohr-Pruner and Elizabeth Hoover-Miller, to have an appreciation of cars.
In 1966, William bought Freada an unrestored 1928 Ford Model A — a car she had wanted and dreamed of owning.
"Mom was never one for jewelry, but she loved the Model A, and dad bought her one," Mary said. "Most 8-year-olds are out playing games, but Dad was showing me how to build a Holley carburetor in the shop."
William died nine years ago, and as Freada's health and memory started to decline, she made the decision to sell the Model A to a buyer in North Lawrence, Ohio. After only a year, the car was sold again, this time to Brian.
Brian learned the previous owner had found the Model A in a barn, and took several trips to the house next door — where Mary eventually answered and discovered that Brian now had her mother's old Model A.
Brian was encouraged by his own mother, who works for a hospice in Youngstown, to reach out to Ohio's Hospice LifeCare to give Freada an opportunity to be reunited with the car.
"I was curious to learn more about the car," Brian said. "I didn't know what to expect from the visit, but I felt good that I was able to reunite her for the afternoon."
On a Saturday morning, Brian took a three-hour drive for a visit with Freada to show her the Model A. Freada and her daughters were able to take a look at their Model A and reminisce on memories of the car.
"My sister and I were thrilled that Brian has the car and took the time to come meet Mom," said Mary. "He got to do something on his bucket list and was full of joy in being able to reunite her with it. His love for the Model A is beyond belief. We could not have picked a better person to have this car if we'd taken applications. It's truly a love story between a man and his car."
Katherine Ritchie, gift officer at Ohio's Hospice LifeCare, and Sarah Ecker, community liaison at Ohio's Hospice LifeCare, were contacted about the visit and met with the group for the reunion.
"It's funny how life eventually connects us all together in such different stages of life," Sarah said. "It shows such humanity and love on Brian's part to see how this car affected his life in such a way he sought out Freada and her family to connect them to the car again. A loving and precious moment from the past, that was a gift from her husband, came back to visit her in the present from a complete stranger."