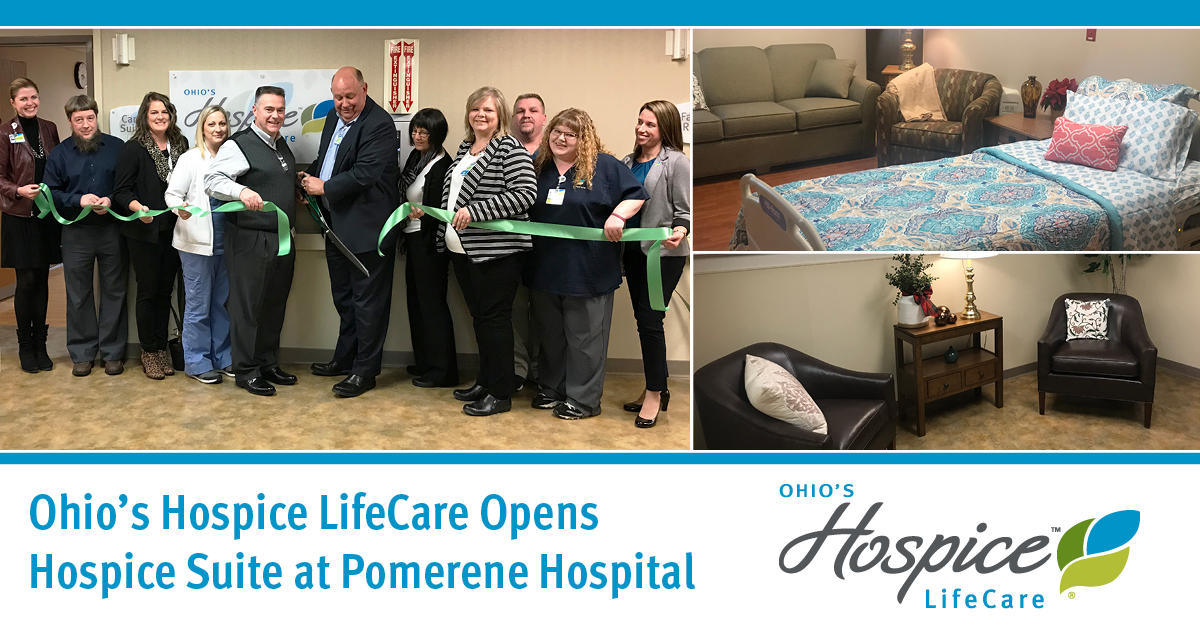 Ohio's Hospice LifeCare Opens Hospice Care Suite at Pomerene Hospital
To best meet the needs of patients in Holmes County, Ohio's Hospice LifeCare recently opened a hospice care suite at Pomerene Hospital in Millersburg, Ohio.
The suite features a patient room, waiting area and a family area with a large dining table. The furniture, decor and finishings create a home-like atmosphere, allowing families to spend quality time with their loved ones who are in hospice care.
"We have had such a history in the community between Ohio's Hospice LifeCare and Pomerene Hospital," said Kurt Holmes, executive director of Ohio's Hospice LifeCare. "We wanted to meet the growing needs of this community."
Ohio's Hospice LifeCare and Pomerene Hospital have been longstanding partners in providing end-of-life hospice care for people in Holmes County. Through this partnership, patients can receive short-term symptom relief close to home.
"We are pleased to offer this service to the community, right here in Millersburg," Holmes said. "We appreciate the partnership we have with Pomerene Hospital, and we will continue to build on that partnership."
The new suite and family room were funded with generous support from donors in the community. In addition, Homestead Furniture donated the furniture.
Jason Justus, CEO of Pomerene Hospital, said the new suite will be a great asset for the community. "We are pleased to be able to work together to meet this need in the community," he said.
Ohio's Hospice LifeCare, a not-for-profit organization established in 1982, is an affiliate of Ohio's Hospice that serves communities in Wayne, Holmes, Ashland and Medina counties. It embodies the spirit of neighbors caring for neighbors with a commitment to relieve suffering, ease fears and provide companionship along life's last journey. Ohio's Hospice LifeCare addresses patient and family needs wherever the patient calls home. Services also include the access to the Stanley C. and Flo K. Gault Inpatient Pavilion, providing short-term patient care to manage acute symptoms, adjust medications or stabilize patient condition.