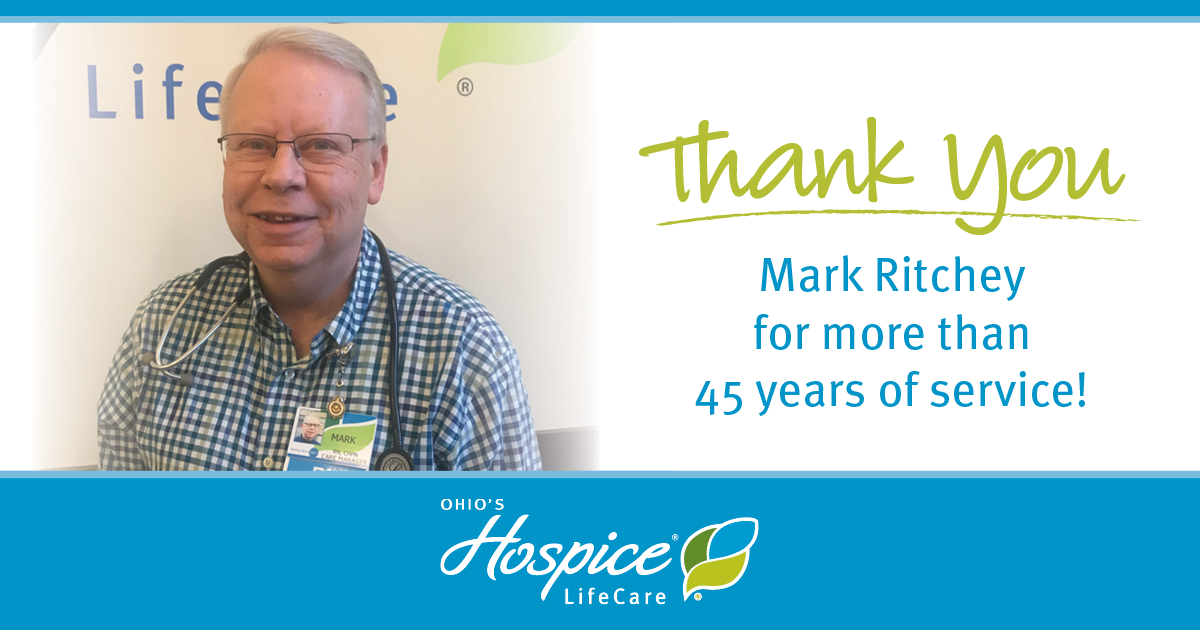 Nurse Retires After More Than 45 Years
After more than 45 years of devoted service, Mark Ritchey, an RN care manager with Ohio's Hospice LifeCare, retired on Jan. 31.
"I had been a nurse for 45 years, four months and 18 days," Mark said. "At the end of the day, I feel that I may have made a difference in someone's life."
Born into a family of nurses in Idaho, Mark's family moved to Long Beach, California, when he was 9 months old. He has many great memories of stories shared about nursing. "I would listen to my parents' nursing stories as a child," Mark said. "I knew that's what I wanted to do as a profession!"
He graduated from Long Beach City College with an associate's degree. He soon learned that hospice nursing was the type of nursing that he wanted to do.
"I lost both of my parents in my early 20s. After working all day, I nursed them in the evening," said Mark, whose wife, Patti Ritchey, is an LPN with Ohio's Hospice LifeCare. "I can appreciate how valuable our hospice care services are to our patients and families."
He met his wife on a blind date when she came to California from Ohio to visit her brother. Less than a year later, they married. After a few years, they made the decision to move to Ohio. "Because I lost both my parents, my wife and I wanted our children to know their Ohio grandparents more than one week out of the year," he said.
Throughout his career, he has worked in area hospitals in the intensive care unit, cardiac catheter lab and the operating room. He also has worked in a long-term nursing facility, a long-term acute care hospital, and a dialysis center in addition to hospice care.
Nursing has continued to be a family affair. In addition to his wife, his daughter is an RN, his daughter-in-law is an LPN, a niece is an RN, and another niece is a doctor. "I'm extremely proud of them," he said. "We have some unique conversations when we are all together!"
Even though he is retiring, Mark will ease into retirement as he continues to work as a nurse with Ohio's Hospice LifeCare on an on-call basis. Thank you, Mark, for your dedicated service to our patients and families. We wish you the best as you begin the next chapter of your life!