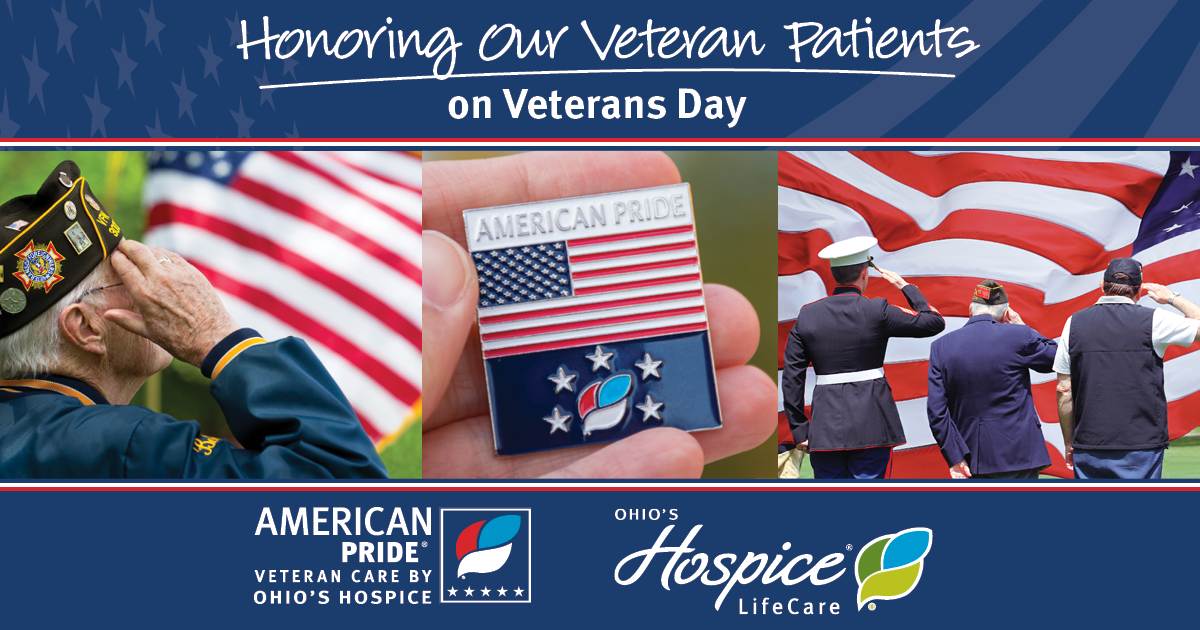 Recognizing and Honoring Our Veteran Patients on Veterans Day
Veterans across the United States have answered the nation's call and served the people of the United States of America defending our freedoms. On Veterans Day and every day, Ohio's Hospice LifeCare through American Pride® Veteran Care by Ohio's Hospice recognizes Veteran patients by honoring and thanking them for their service and sacrifice.
This week, Veteran patients will receive notes of appreciation and thanks for their service to the United States. Ohio's Hospice LifeCare will recognize its Veteran patients as it does each and every day with dignity, respect and honor.
"Regardless of the COVID-19 pandemic, our Veteran patients continue to deserve our honor and respect," said Bob Allen, American Pride coordinator with Ohio's Hospice. "At Ohio's Hospice, we take that duty to heart."
Veteran volunteers at Ohio's Hospice LifeCare recently performed a Veteran recognition ceremony. Ohio's Hospice invites the community to view and share this video with Veterans as they are honored for their service and sacrifice throughout the week.
Through American Pride Veteran Care by Ohio's Hospice, Ohio's Hospice LifeCare honors the service of Veteran patients and assures them of receiving the highest quality of care. In addition to celebrating and thanking Veterans for their service, American Pride assists patients in obtaining access to all the benefits to which Veterans are eligible, provides spiritual support, and addresses individual post-traumatic stress issues. Through participation in Veteran recognition ceremonies, Honor Flight and special observances and celebrations, Ohio's Hospice LifeCare celebrates the lives of Veterans and honors their contributions.
During the COVID-19 pandemic, Ohio's Hospice LifeCare has continued to provide Veteran-centric care with individualized attention. Ohio's Hospice LifeCare is currently serving 22 Veteran patients.
"A Veteran doesn't need to ask the question at the end of life if they made a difference in this world," Allen said. "Their contribution is well documented, and we recognize their giving and sacrifice with the utmost attention and care each Veteran deserves."
Ohio's Hospice LifeCare, a not-for-profit organization established in 1982, is an affiliate of Ohio's Hospice that serves communities in Wayne, Holmes, Ashland and Medina counties. It embodies the spirit of neighbors caring for neighbors with a commitment to relieve suffering, ease fears, and provide companionship along life's last journey. Ohio's Hospice LifeCare addresses patient and family needs wherever the patient calls home. Services also include access to the Stanley C. and Flo K. Gault Inpatient Pavilion, providing short-term patient care to manage acute symptoms, adjust medications, or stabilize patient condition.