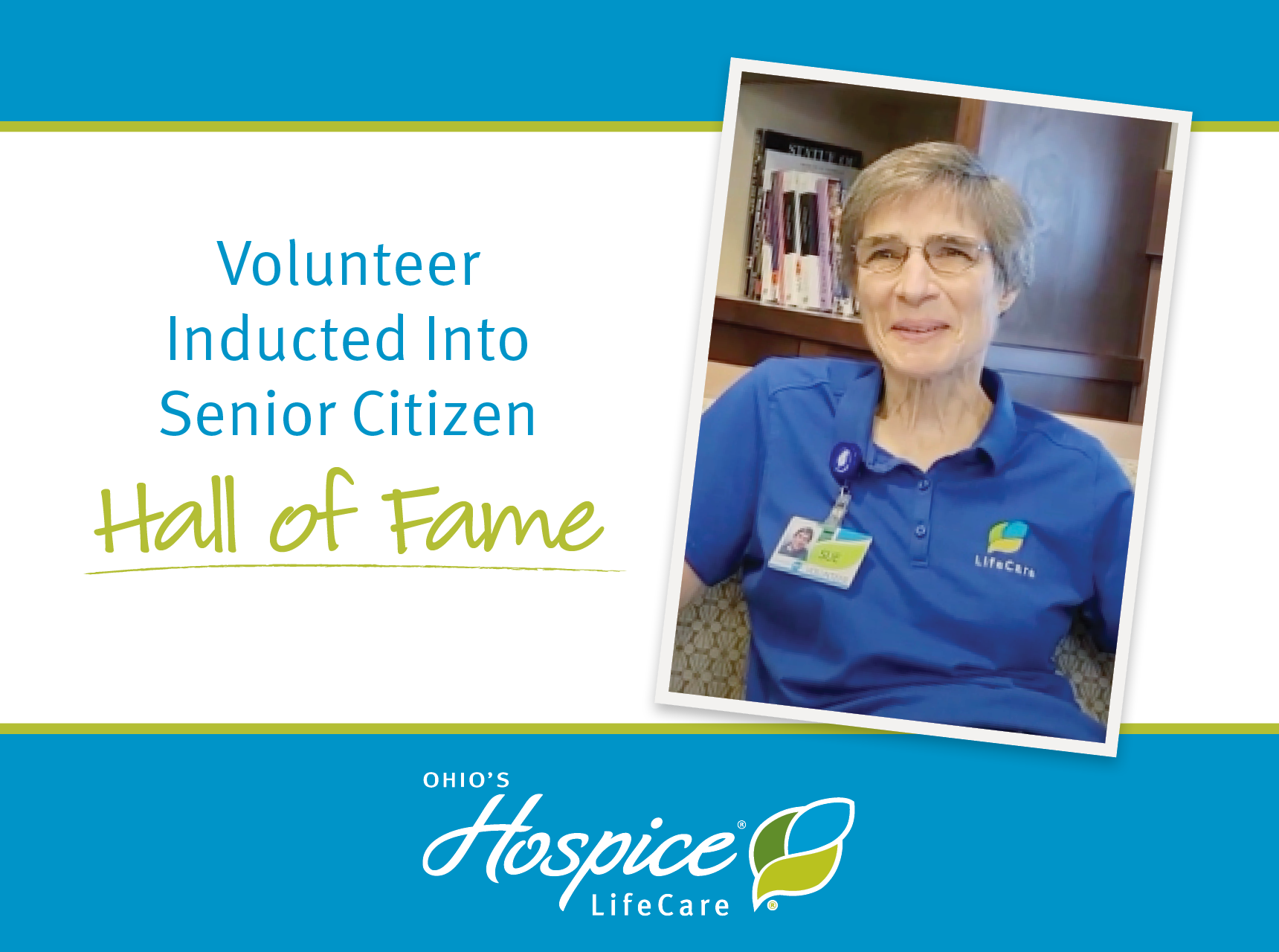 Ohio's Hospice LifeCare Volunteer Inducted Into Senior Citizen Hall of Fame
Sue Madick, a volunteer with Ohio's Hospice LifeCare, recently was inducted into the Senior Citizen Hall of Fame. The award was presented by Direction Home Akron Canton Area Agency on Aging & Disabilities. Direction Home Akron Canton is a private, nonprofit organization that helps older adults and people with disabilities thrive in the places they want to call home.
A registered nurse since 1981, Madick spent her time helping patients at both Akron General Medical Center and Wooster Community Hospital. She also worked as a registered nurse first assistant at the Wooster Ambulatory Surgery Center, Pomerene Hospital, and Wooster Orthopedics. Upon her retirement, Madick chose to continue supporting patients through volunteering at Ohio's Hospice LifeCare.
"I wanted to volunteer to give back to the community. Hospice seemed like a good fit, and it has been," Madick said. "I love my hospice volunteering. I do other volunteering that is rewarding to me, but not as rewarding as hospice."
Madick has been volunteering with Ohio's Hospice LifeCare since 2013. Rebecca McCurdy, manager of Volunteer Services at Ohio's Hospice LifeCare, praised Madick's commitment to the mission of the not-for-profit hospice. "She is a great representative for hospice. She's an RN who assists with direct care assignments," McCurdy said. "She has been training our volunteers in hands-on care, and she makes all the handmade holiday ornaments for our patients every year. She's really a renaissance woman."
Madick was honored to be recognized, "I have been very blessed in my life. I am so glad I have opportunities to give back to my community," Madick said. "I really believe I get more back from volunteering than I give. It is very satisfying."
Because of the COVID-19 pandemic, this year's hall of fame induction ceremony was held virtually. To see the video of Madick's induction ceremony, please click here.
Ohio's Hospice LifeCare is grateful to Madick and all its volunteers for their service. To learn more about volunteering, please click here.
Ohio's Hospice LifeCare, a not-for-profit organization established in 1982, is an affiliate of Ohio's Hospice that serves communities in northeast Ohio. It embodies the spirit of neighbors caring for neighbors with a commitment to relieve suffering, ease fears, and provide companionship along life's last journey. Ohio's Hospice LifeCare addresses patient and family needs wherever the patient calls home. Services also include access to the Stanley C. and Flo K. Gault Inpatient Pavilion, providing short-term patient care to manage acute symptoms, adjust medications, or stabilize patient condition.