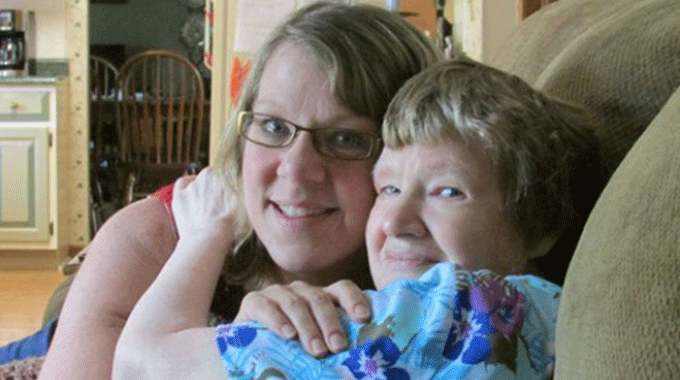 Caring for Pam: One Family's Hospice Story
If your big sister with special needs developed cancer, where would you turn? Connie Mullen Franks of Wooster turned to Ohio's Hospice LifeCare, a decision that she says made all the difference for her sister, Pam.
The story Connie tells of her hospice experience is like so many others—a story of caregivers who have made an indelible mark on the lives of patients and their families.
Pamela Jane Mullen was born in Wooster in 1954 and was one of the first students at the Ida Sue School. As an adult, Pam worked as a teacher's aide at Nick Amster Sheltered Workshop and Ida Sue School. She also worked at the College of Wooster and was a teacher's helper at Northview Christian Missionary Alliance Church. She was a gifted Special Olympian, winning medals and trophies at competitions all over the country.
Pam was diagnosed with uterine cancer in 2012 while living with her elderly mother at Wayne Manor Assisted Living. Connie, Pam's legal guardian, had recently been through her own bout with cancer and was now faced with making very difficult decisions on her sister's behalf.
"I made Pam very much a part of the decision-making," says Connie. "It was a very difficult time because she often got angry with me because I was making the decisions."
Connie had heard that hospice was particularly skilled at pain management, so she called Ohio's Hospice LifeCare.
"Ohio's Hospice LifeCare dealt so well with everything," Connie recalls. "The nurses worked with the staff at Wayne Manor to manage her pain and other symptoms. It took a lot of the pressure off me to have others help with medical care and decisions."
Connie was also delighted by the love and care demonstrated by Ohio's Hospice LifeCare volunteers who saw to it that Pam got to visit a horse farm and was taken to the movies. Pam particularly enjoyed the visits of Sharon Pooler, Ohio's Hospice LifeCare volunteer, and her therapy dog, Tino.
"Sharon and Tino were constantly at Pam's side," says Connie. "There were some incredible moments that we all shared at Pam's bedside."
When Pam's pain became too great to manage in assisted living, Ohio's Hospice LifeCare arranged for her transfer to The Willows at Smithville Western Care Center. Connie says that Pam had some rough times with pain, but that the hospice nurses worked hard to calm her and manage her medication.
"Pam wasn't thrilled with the move at first, but I knew we'd made the right choice when she told me, 'I'm glad you put me in here. They're so kind to me.'"
Nurses and volunteers weren't the only members of the Ohio's Hospice LifeCare team who had a hand in Pam's care. Connie cites Tom Michaels, chaplain, who would sit by Pam's side and softly sing children's songs and Sunday School songs.  Connie asked Tom to conduct Pam's funeral service, which he closed by singing "Jesus Loves Me."
Pam Mullen died with her family present in the evening of August 22, 2014. Her passing was peaceful and comfortable.
"It was a life-changing experience," Connie said. "I just can't tell you how wonderful everyone on the Ohio's Hospice LifeCare care team was. It was hard to make the decisions I had to make; I know I couldn't have done it without Ohio's Hospice LifeCare."
As many before her, Connie was so moved by her hospice experience that she has recently completed training to become an Ohio's Hospice LifeCare volunteer. It will be her chance to pay it forward to others who are facing the challenges she faced and walk the path with those facing life-limiting illness and loss.