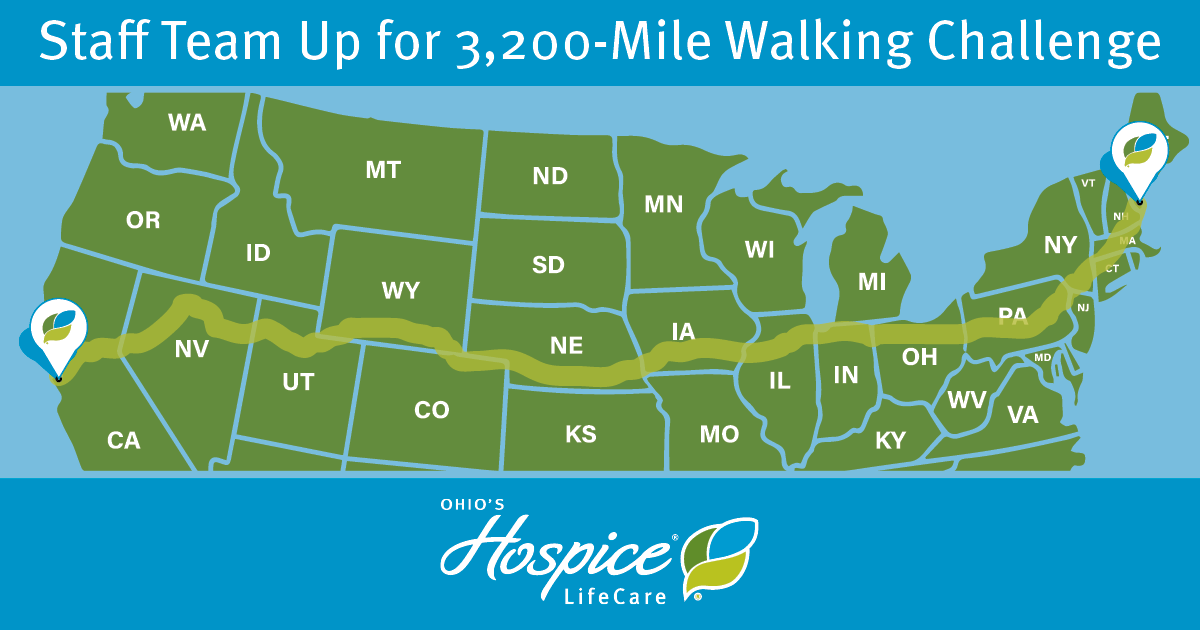 Ohio's Hospice LifeCare Staff Team Up for 3,200-Mile Walking Challenge
Self-care is an important component of providing superior care and superior services to patients and families at Ohio's Hospice LifeCare. Since March, staff and volunteers have teamed up to track their miles as they work together to walk enough miles to walk across the United States. 
The idea began with Bob Halfhill, chaplain at Ohio's Hospice LifeCare. "As a team, we often experience stress throughout the day," he said. "Taking a walk is an easy way to reduce stress. It gives your mind time to process, a chance to step away, and then come back when you're ready."
Halfhill created a walking challenge for his teammates to virtually walk from coast to coast, equaling 3,200 miles. He chose two lighthouses as starting and ending points, Nubble Lighthouse in Maine and Pigeon Point Lighthouse in California.  
Staff and volunteers were divided into more than 20 teams and were challenged to walk five or six miles per day. Each week, the teams report their mileage totals. The miles are adding up quickly, with several teams past the halfway point of the walking challenge. To date, the teams have walked a total of more than 27,000 miles. 
As the teams continue their walking challenge, it has encouraged them to value health and wellness, teamwork, and caring for one another. 
"It's been really fun to see how excited everyone has been to participate in the walking challenge," said Jennifer Miller, senior leadership assistant at Ohio's Hospice LifeCare. "It has encouraged people to walk and come together as a team."
The walking challenge has been an engaging way for staff to relieve stress, get exercise, and practice self-care. "As we continue to provide superior care and superior services to the communities we are privileged to serve, it is vital that our staff also take care of themselves," said Kurt Holmes, executive director of Ohio's Hospice LifeCare. "Taking the time for self-care allows us to continue making a difference in the lives of the patients and families." 
Ohio's Hospice LifeCare, a not-for-profit organization established in 1982, is an affiliate of Ohio's Hospice that serves communities in Wayne, Holmes, Ashland and Medina counties. It embodies the spirit of neighbors caring for neighbors with a commitment to relieve suffering, ease fears, and provide companionship along life's last journey. Ohio's Hospice LifeCare addresses patient and family needs wherever the patient calls home. Services also include access to the Stanley C. and Flo K. Gault Inpatient Pavilion, providing short-term patient care to manage acute symptoms, adjust medications, or stabilize patient condition.