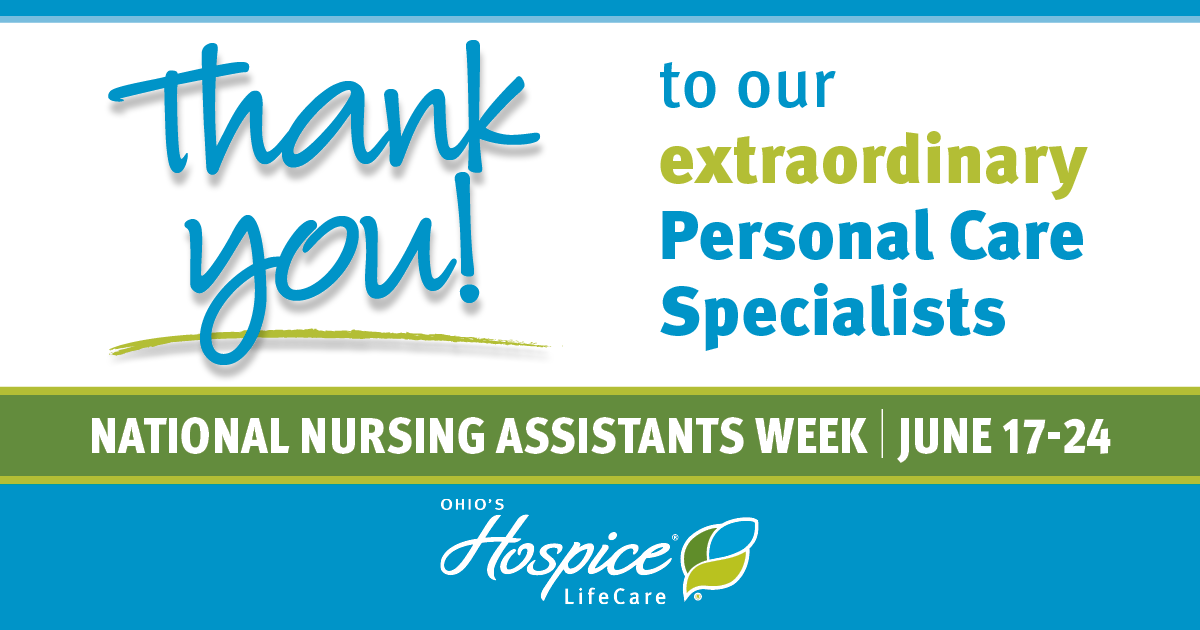 Ohio's Hospice LifeCare Personal Care Specialists Share Their Stories During National Nursing Assistants Week
During National Nursing Assistants Week, June 17-24, Ohio's Hospice LifeCare, an affiliate of Ohio's Hospice, takes a moment to recognize and thank our personal care specialists for all they do 24 hours a day, 7 days a week, 365 days a year to provide superior care to our patients and families we are privileged to serve.  
  
At Ohio's Hospice LifeCare, personal care specialists are state tested nursing assistants (STNAs). They provide the essential daily, hands-on care in homes, nursing homes and inpatient settings. As professionals, the personal care specialists are instrumental in promoting and safeguarding the physical, mental, emotional, social and spiritual well-being of the patients and their families.   
  
They participate as members of the interdisciplinary team and communicate any patient changes or updates to ensure proper response time and quality patient care. Ohio's Hospice also has several STNAs who serve the organization in non-clinical ways, including scheduling and pharmacy services. Others serve as buyers, Hospice House coordinators and excellence educators.  
  
Our personal care specialists go above and beyond each and every day. They work days, evenings, weekends and holidays. They provide or assist with personal care, including but not limited to bathing, dressing, oral hygiene, hair care, meal preparation, feeding, transfers and exercises.    
  
Ohio's Hospice LifeCare is grateful and thankful for its personal care specialists' kindness, compassion and expert care. They make a difference in the lives of patients and families with every interaction. We appreciate all they do to serve our mission.  
  
We invite you to get to know some of our personal care specialists. 
Kandi Besancon has always enjoyed helping others. "There is a fulfillment that makes you feel special," she said. Two of her favorite things about her role are receiving thanks for the care patients receive and being able to build a relationship with the patients.

Rebecca Burkey became a personal care specialist because she enjoys taking care of people. She likes to meet new people and listening to patients' stories. "I've cared for so many special patients and their families," she said. Two of her favorite memories as a personal care specialist are making ice cream sundaes and dancing with a patient's grandson.
Natalie Caudill wants to take care of patients to help them feel better in their time of need. She said helping patients and families is a rewarding experience. Her favorite memory is caring for a patient who made everyone smile when they saw her or heard her name.
Janette Edwards chose this career after her mother received services from the organization. She enjoys helping others and, "giving them the care they need and deserve at this time in their life," she said. Her favorite memory is providing a patient with a realistic, battery-powered cat who missed having a cat.

Shykielah Evans enjoys being a personal care specialist because she is able to spend quality time with people and learn about their stories. The best part of her role is the smiles and laughs of the patients. "As a personal care specialist, we are able to make their days comfortable and their spirits bright."
Shania Hickman chose a career in hospice care because she wanted to help people in need and to give them comfort during the end of life. Her favorite part of helping patients and families is seeing their smiles. Some of her most memorable experiences are being thanked in a patient's obituary for providing care.
Patricia Marty became a personal care specialist because, "I believe it was a calling for me," she said. "It brings me great joy to help people." She enjoys helping patients and family because of how thankful they are for the care they receive.

Katelyn McClure loves caring for others. "It makes me feel like I'm making a difference in someone's life," she said. Katelyn's most memorable experiences as a personal care specialist are knowing when she is appreciated by the patients and families she is caring for.

Tonya Snyder enjoys caring for people in all stages of their lives. "Our patients and families are so very appreciative of what we do," she said. "Not only how we care for their loved one with our gentle touch, but also taking care of them as well." While Tonya said that every day is memorable, her favorite memory is helping a patient marry their significant other.